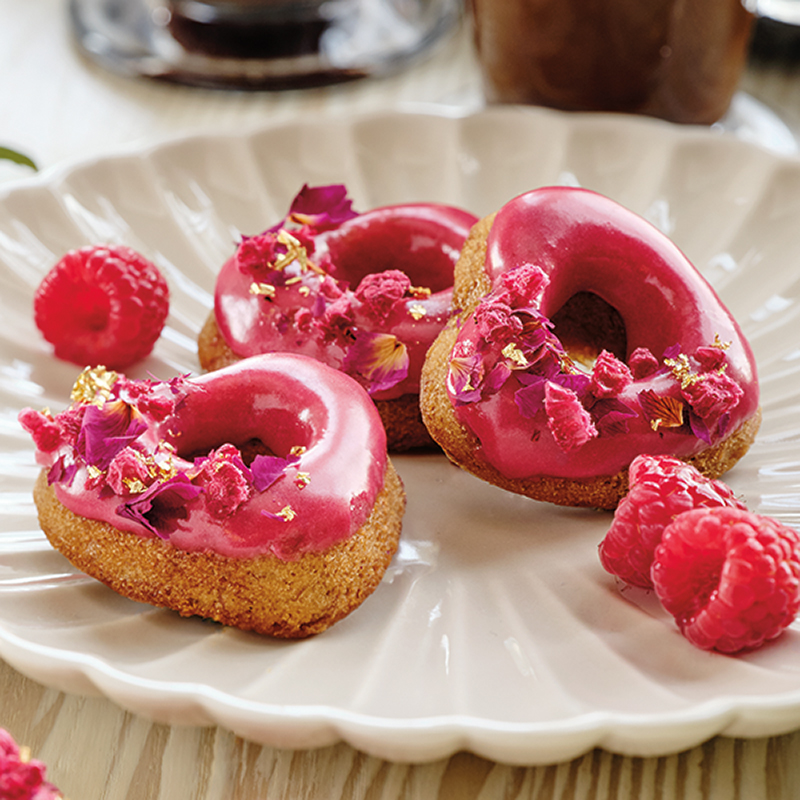 BANANA BREAD DOUGHNUTS WITH CRANBERRY & GRAND MARNIER GLAZE
Spoil your valentine by making this unforgettable brunch item.
Ingredients
Serves Makes about 12 doughnuts
1 cup (250 ml) all-purpose flour
½ cup (125 ml) dark brown sugar
½ tsp (2.5 ml) fine sea salt
1 tsp (5 ml) baking powder
2 large overripe bananas, peeled
2½ tbsp (37 ml) unsalted butter, melted
1 cup (250 ml) fresh or frozen cranberries
2 tbsp (30 ml) Grand Marnier Cordon Rouge
1 cup (250 ml) icing sugar
edible rose petals, edible gold and/or freeze-dried raspberries, for garnish (optional)
Instructions
To make doughnuts, preheat oven to 350 F (180 C). Spray 2 doughnut pans* with non-stick spray and set aside.
In a medium bowl, whisk together flour, brown sugar, salt and baking powder.
In a separate medium bowl, mash bananas until liquified, then whisk in melted butter and egg. Gently fold banana mixture into flour mixture until just combined. Transfer batter into a piping bag fitted with a plain round tip and pipe doughnut batter into prepared doughnut moulds to fill ¾ full. Place filled doughnut moulds on a baking tray and bake until doughnuts are golden brown and spring back when lightly pressed, about 15 to 20 minutes. Allow doughnuts to cool in pan for 10 minutes and then remove and allow to cool completely on a wire rack.
While doughnuts cool, make cranberry and Grand Marnier glaze. In a small saucepan over medium heat, bring cranberries and Grand Marnier to a gentle simmer. Continue to simmer until cranberries start to burst and mixture reduces slightly, about 2 to 3 minutes. Using a fine mesh sieve over a medium bowl, strain cranberry mixture, pressing fruit with back of a spoon or rubber spatula. Be sure to scrape underside of sieve, where most of the strained pulp will accumulate. You should have about 2 tbsp (30 ml) of fruit pulp in bowl. Discard contents of strainer. Sift icing sugar over pulp and whisk until smooth and completely incorporated.
Working with 1 doughnut at a time, dip each banana bread doughnut, top-side down, into freshly made glaze. Allow any excess drip off before inverting and returning to wire rack. Sprinkle with edible rose petals, edible gold and crushed, freeze-dried raspberries, if desired. Let sit at room temperature for 1 hour before serving, allowing the glaze to set.
*Doughnut pan used for this recipe was 2.65-in x 0.85-in. If you change pan size it will yield fewer doughnuts.
Drink Pairings