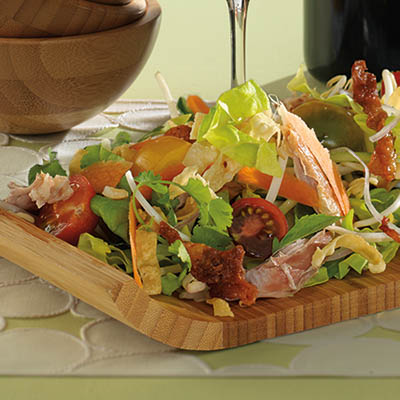 BARBECUED DUCK SALAD WITH FRIED WONTON STRIPS
Ingredients
Serves 4 to 6
1 stalk lemon grass, white part only, thinly sliced
½ bunch cilantro, roots and stems only (set aside leaves for later)
2 tsp (10 ml) finely grated fresh ginger root
1 Thai red chili, finely chopped
1 tbsp (15 ml) fresh lime juice
1 tbsp (15 ml) rice wine vinegar
2 tbsp (30 ml) finely grated palm sugar
1½ tbsp (22 ml) fish sauce
vegetable or canola oil, for deep frying
1 Chinese barbecued duck, cooled
1 head butter lettuce, rinsed, dried, cut into ½-in (1.25 cm) juliennes
1 English cucumber, seeded, cut into 2-in x ¼-in (5 cm x 0.5 cm) juliennes
1 large carrot, peeled, thinly sliced into ribbons
2 cups (500 ml) bean sprouts, rinsed and dried well
1 container cherry tomatoes, each halved
2 shallots, thinly sliced
1 bunch Thai basil, leaves picked and torn
½ cup (125 ml) dry-roasted peanuts, coarsely chopped
Instructions
To make DRESSING: In an immersion blender place lemon grass, cilantro roots, ginger and chili then process until coarsely chopped. Add lime juice, vinegar, sugar, fish sauce and sesame oil and stir until well combined. Season with more lime juice, sugar or fish sauce, to taste. Set aside.
Preheat oven to 350 F (180 C). In a medium-sized saucepan, heat 1-in (2.5 cm) of vegetable oil over medium-high to 350 F (180 C). Cut wonton wraps into ¼-in (0.5 cm) strips. Carefully add a small handful of wonton strips a few batches at a time to hot oil. When golden and crisp, remove and transfer to a paper towel-lined baking sheet. Repeat with remaining strips and set aside.
To prepare duck, remove skin and cut skin into ½-in (1.25 cm) julienne. Place onto baking dish and heat in oven until crisp. Remove from oven and transfer to a paper towel-lined baking sheet to drain excess fat. Transfer to plate and set aside.
Using hands, remove meat from bone, tear into bite-sized pieces and place in a large mixing bowl. Add remaining ingredients, reserved duck skin and fried wonton strips. Drizzle with Dressing, tossing lightly until well mixed. Transfer to serving plates and serve immediately.
Drink Pairings