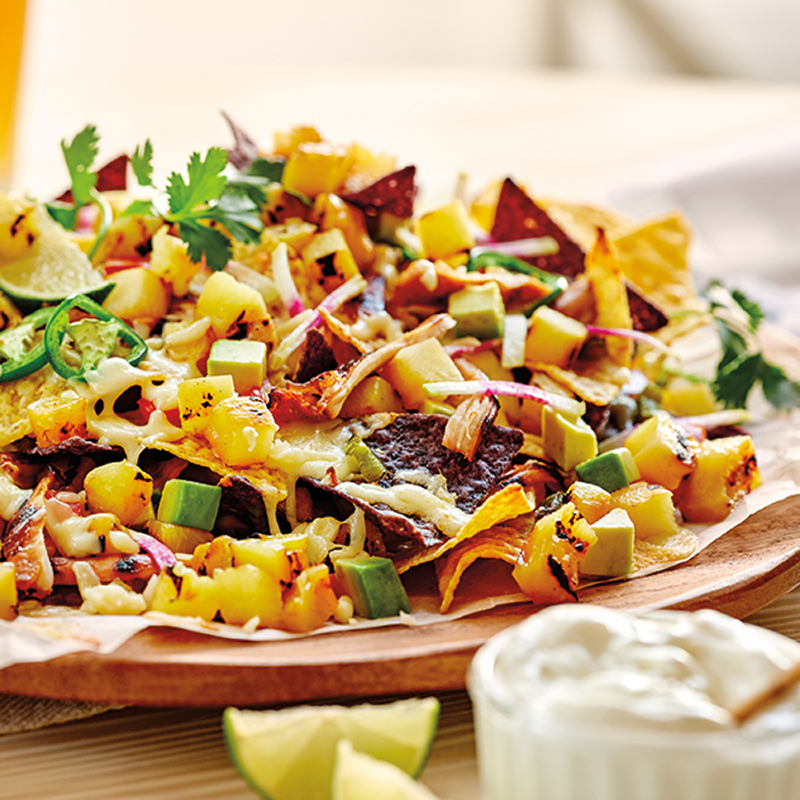 BARBECUED PINEAPPLE & CHICKEN NACHOS
Ingredients
Serves 4-6
1-in (2.5 cm) fresh ginger, peeled and chopped
2 cups (500 ml) pineapple juice
½ cup (125 ml) low sodium soy sauce
¼ cup (60 ml) granulated sugar
1/3 cup (75 ml) apple cider vinegar
1 tbsp (15 ml) toasted sesame oil
1 lb (500 g) boneless, skinless chicken thighs or breasts
½ medium pineapple, skin removed, cored and cut into ½-in (1.25 cm) rings
2 fresh jalapeños, divided
1 tbsp (15 ml) grapeseed oil
1 x 12 oz (340 g) bag tortilla chips
2 cups (500 ml) shredded jack cheese
½ medium red onion, diced
1 avocado, peeled, pitted and diced
2 radishes, thinly sliced into rounds, for garnish
¼ cup (60 ml) fresh cilantro leaves, for garnish
1 lime, cut into wedges, to serve
Instructions
To make marinade, in a large bowl, whisk together ginger, pineapple juice, soy sauce, sugar, vinegar and sesame oil. Whisk until sugar is dissolved and marinade is well incorporated. Set aside.
Using paper towels, thoroughly pat chicken dry. Place chicken in a single layer on a cutting board and pound to an even thickness of about ½-in (1.25 cm). With a fork, pierce chicken throughout before lightly sprinkling with salt. Add chicken to marinade, ensuring all pieces are completely immersed (turn halfway through marinating time if unable to immerse completely). Cover and chill for at least 8 hours or up to overnight.
Preheat grill to medium-high.
Brush pineapple and 1 jalapeño with oil. Place on grill and cook until slightly charred, about 2 to 3 minutes per side. Set aside.
Remove chicken from marinade and place on grill. Discard remaining marinade. Grill chicken, turning occasionally, until cooked through, about 5 minutes total. Set aside.
To assemble nachos, dice grilled pineapple and jalapeño. Dice or shred chicken and thinly slice remaining fresh jalapeño. On a foil-lined baking tray that will fit onto grill, layer chips, cheese, diced grilled pineapple, fresh and grilled jalapeño, chicken, tomato and onion. Cook on grill until warmed and cheese has melted, about 3 to 5 minutes.
To serve, arrange nachos on a platter. Garnish with diced avocado, radish slices, fresh cilantro leaves and lime wedges. Serve while warm.
Drink Pairings