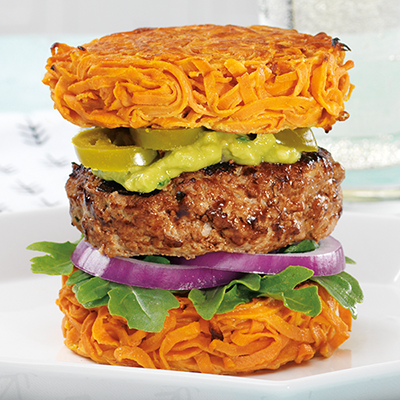 BARBECUED PORK BURGER WITH SPIRALED SWEET POTATO BUN
Ingredients
Serves 4
1 tbsp (15 ml) grapeseed oil, plus extra for greasing and frying
3 lbs (1.5 kg) sweet potato, peeled and ends cut flat
3 large eggs, whisked, divided
2 tbsp (30 ml) tomato-based barbecue sauce
¼ tsp (1 ml) ground cayenne pepper
1 tsp (5 ml) red wine vinegar
1 tsp + ½ tsp (5 ml + 2.5 ml) salt, divided
1 tbsp (15 ml) finely chopped chives
1 large avocado, peeled and pitted
1 tbsp (15 ml) lime juice
¼ tsp (1 ml) ground cumin
1 tbsp (15 ml) chopped cilantro leaves
1 small tomato, seeded and finely diced
1½ cups (375 ml) baby arugula
1 small red onion, thinly sliced into rounds
12 slices pickled jalapeños (optional)
Instructions
Liberally grease eight 12 or 14 oz (355 or 398 ml) ramekins with oil and line with a piece of plastic wrap. Using a spiralizer, cut sweet potatoes into thin strands.
In a large frying pan, heat ½ tbsp (7.5 ml) oil over medium heat. Add half the sweet potato strands and cook, stirring often, until softened, about 5 minutes. Transfer to a baking tray and repeat with another ½ tbsp (7.5 ml) oil and sweet potato strands. Let cooked sweet potato cool to room temperature, about 20 minutes.
In a large bowl, place cooled sweet potato along with 2 whisked eggs and a good pinch of both salt and pepper. Toss to combine. Divide among prepared ramekins, pressing sweet potato mixture down. Place a piece of plastic wrap directly onto surface of sweet potato mixture and place a heavy can or jar on top to weight mixture down. Refrigerate at least 30 minutes, up to 24 hours.
In a large bowl, gently mix together ground pork with barbecue sauce, cayenne, vinegar, 1 tsp (5 ml) salt, ½ tsp (2.5 ml) pepper, chives and 1 whisked egg until well combined. Divide mixture into 4 equal portions. Using hands, gently form mixture into 4 patties, each about 4-in (10 cm) in diameter.
Grease grill or a grill pan with oil and preheat to medium-high heat.
Lightly coat a large frying pan with some extra oil and heat over medium heat. Remove plastic wrap and using a spatula, gently slide sweet potato buns into pan. Fry until golden brown on both sides and warm in centre, about 3 to 5 minutes per side. Use sweet potato buns while warm or at room temperature.
In a medium bowl, mash avocado until smooth. Stir in lime juice, cumin, ½ tsp (2.5 ml) salt, cilantro and tomatoes until well combined. Set aside.
Grill burger patties, flipping every few minutes, until cooked through, about 8 to 10 minutes total. Place half the sweet potato buns on a platter. Top with arugula, red onion slices, burger patties, generous dollop of avocado sauce and jalapeños. Sandwich with remaining sweet potato buns and serve.
Drink Pairings