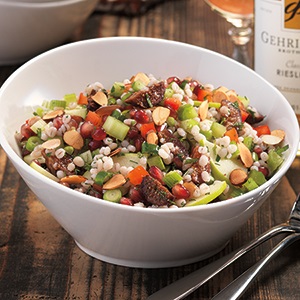 BARLEY SALAD WITH HERBED LEMON VINAIGRETTE
Ingredients
Serves 6
½ cup (125 ml) pearl barley
2 celery stalks, cut into ¼-in (0.5 cm) dice
2 to 3 green onions, finely chopped
1 small red bell pepper, seeded, cut into ¼-in (0.5 cm) dice
1 Granny Smith apple, peel on, cored, chopped into ½-in (1 cm) dice
1 pomegranate, seeded (optional)
½ cup (125 ml) dried Turkish figs, chopped
2 tbsp (30 ml) finely chopped flat-leaf parsley
1 tbsp (15 ml) finely chopped fresh tarragon
1 tbsp (15 ml) finely chopped fresh dill
1 tbsp (15 ml) finely chopped fresh mint
HERBED LEMON VINAIGRETTE:
3 tbsp (45 ml) extra-virgin olive oil
1 tsp (5 ml) Dijon mustard
2 tbsp (30 ml) pure maple syrup
salt and freshly ground black pepper, to taste
Instructions
In a saucepan bring water, barley and salt to a boil. Reduce heat to simmer, cover and cook until barley is tender but still chewy, 30 minutes. Remove from heat and let sit 5 minutes. Drain remaining liquid and transfer to a serving bowl.
Add remaining salad ingredients to barley, including pomegranate seeds if using, set aside
To make HERBED LEMON VINAIGRETTE: Finely grate lemon zest to yield about 2 tsp (10 ml) zest. In a small bowl, whisk together zest, lemon juice, oil, Dijon and maple syrup. Season with salt and pepper.
Drizzle salad with vinaigrette and toss to mix.
Drink Pairings