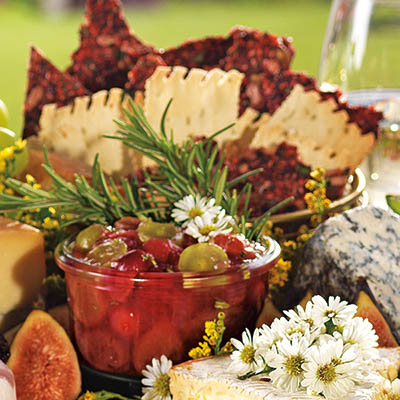 BC CHEESEBOARD WITH GRAPE CHUTNEY
Ingredients
Serves 4
2 cups (500 ml) red, seedless grapes
2 cups (500 ml) green, seedless grapes
⅓ cup (75 ml) white sugar
1 tsp (5 ml) finely chopped ginger
1 tsp (5 ml) finely chopped rosemary
2 tbsp (30 ml) red wine vinegar
salt and pepper, to taste
½ cup (125 ml) whole flax seeds
⅓ cup (75 ml) ground flax seeds
¼ cup (60 ml) black sesame seeds
¼ cup (60 ml) toasted white sesame seeds
¼ cup (60 ml) sunflower seeds
2 tbsp (30 ml) pumpkin seeds
½ cup (125 ml) chopped, fresh herbs (e.g. parsley and dill)
2 tbsp (30 ml) beet powder (optional)
1 cup (250 ml) warm water
Instructions
In a large skillet, combine all ingredients except salt and pepper and bring to a boil. Reduce heat and simmer until the grapes begin to soften and break down. Season with salt and pepper. Let cool completely before using. Store in refrigerator for up to 2 weeks.
Serve with various BC cheeses and Seedy Crackers.
To make SEEDY CRACKERS: Preheat oven to 150 to 200 F (66 to 93 C).
Combine all ingredients, cover and let sit at room temperature for 1 hour.
Place mixture on a sheet of parchment paper, with another sheet of parchment on top. With a rolling pin, roll out as flat as possible. Gently peel off top parchment and slide rolled-out seed mixture with the parchment onto a baking sheet.
Bake for 3 hours, then turn off oven and let sit for another 2 hours.
Remove and peel away from parchment paper. Break into chards and serve with BC Cheese and Grape Chutney.
Drink Pairings