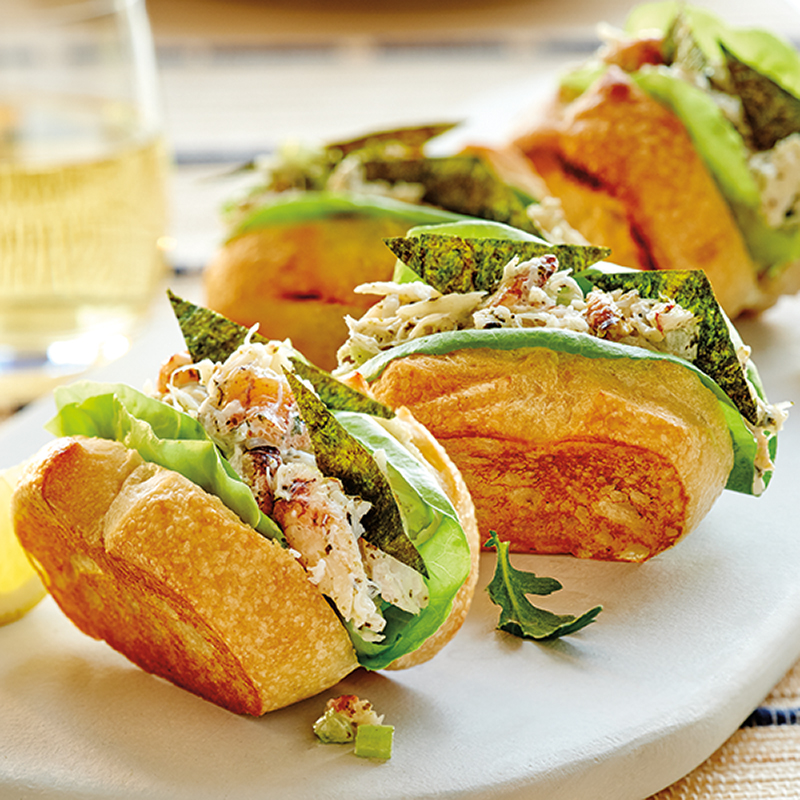 BC Crab Rolls with Lemon Nori Spread
Ingredients
Serves 4
½ cup (125 ml) mayonnaise
1 tsp (5 ml) finely grated lemon zest
1 tsp (5 ml) fresh lemon juice
½ lb to ¾ lb (250 g to 340 g) Dungeness crab meat
8 sourdough or brioche rolls
3 tbsp (45 ml) unsalted butter, softened
8 large leaves butter lettuce
Instructions
In a large, dry frying pan over high heat, toast nori sheets, 1 at a time, until crisp, about 30 seconds. Place on a clean work surface and let cool to room temperature. Repeat with remaining nori. Once all nori has been toasted and cooled, take 1 sheet and chop into 2- to 3-in (5 to 8 cm) long strips and set aside.
To make lemon-nori spread, start by tearing up remaining nori sheet. Using a spice grinder or blender, finely grind nori. Add nori to a small bowl along with mayonnaise, lemon zest and juice. Stir until well combined. Season to taste with salt. Spread may be kept in an airtight container in refrigerator for up to 5 days.
In a medium bowl, gently fold together crab meat, celery and ¼ cup (60 ml) lemon-nori spread. Taste and season with salt or add some more lemon-nori spread, if desired. Crab salad mixture may be refrigerated in an airtight container overnight.
When ready to serve, prepare rolls. Trim a piece lengthwise from both sides of rolls, to provide a flat surface on each side. Cut a slit down the middle of the top of each roll, not cutting all the way through. Generously butter the outside cut surfaces of rolls. In a large frying pan, over medium heat, toast outside of rolls, 1 at a time, until golden brown, about 1 to 2 minutes per side. Transfer rolls to a serving platter and repeat buttering and browning with remaining rolls.
To serve, open up rolls and line each centre-line cut with a leaf of butter lettuce. Fill with crab salad and top with reserved nori strips.
Drink Pairings