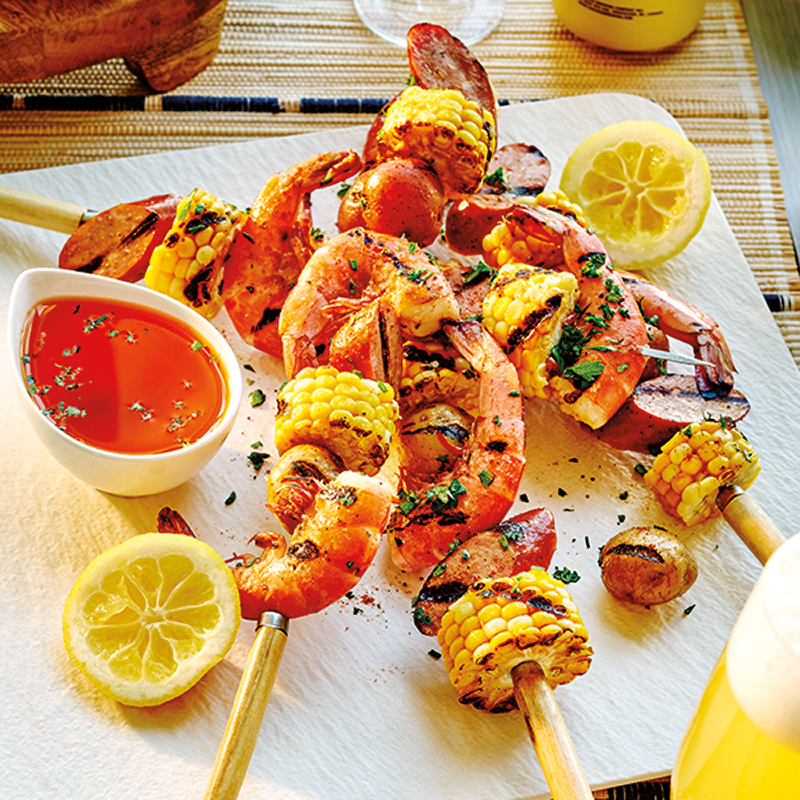 BC Prawn Skewers with Corn, Sausage & Potatoes
Ingredients
Serves 6
1 cup (250 ml) unsalted butter, melted
4 tsp (20 ml) Old Bay seasoning, divided
1 lb (500 g) baby potatoes
4 corn cobs, each cut into 6 rounds
1 lb (500 g) unpeeled BC prawns, heads removed
1 lb (500 g) smoked beer sausage, sliced
kosher salt and pepper, to taste
¼ cup (60 ml) chopped flat-leaf parsley leaves, for garnish
6 metal or wooden skewers
Instructions
In a small saucepan, melt butter over medium heat. Stir in 2 tsp (10 ml) Old Bay seasoning and continue to heat for another minute. Remove from heat and set aside.
In a large stockpot, place potatoes and remaining 2 tsp (10 ml) Old Bay seasoning and add enough water to cover by 2-in (5 cm). Bring to a boil over high heat. Reduce heat to medium-high and cook for 5 more minutes. Add corn to pot and continue to cook until potatoes are just fork-tender, about another 2 to 3 minutes. Drain potatoes and corn and set aside.
Preheat barbecue to medium-high. Brush grills with oil. If using wooden skewers, soak in water for 30 minutes.
To assemble skewers, arrange 3 shrimp, 3 pieces of sausage, 3 potatoes and 2 pieces of corn on each skewer. Brush contents of each skewer generously with seasoned butter and a sprinkle of salt and pepper. Working in batches, grill skewers, turning often, until grill-marked and warmed through, about 5 to 8 minutes total. While skewers are grilling, place lemons cut-side down on grill and cook until grill-marked. Transfer skewers and lemons to a platter. Garnish with chopped parsley and serve immediately with remaining seasoned butter alongside.
Drink Pairings