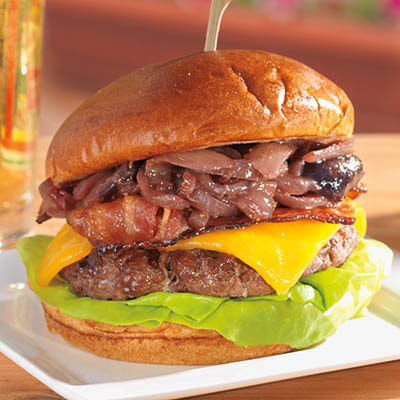 Ingredients
Serves 6
3 lbs (1.5 kg) ground beef
2 tsp (10 ml) fine sea salt
½ tsp (2 ml) freshly ground black pepper
2 tbsp (30 ml) Worcestershire sauce
6 slices, sharp cheddar cheese
12 slices, bacon, fried crisp
FIG AND CARAMELIZED ONION JAM:
1 tbsp (15 ml) vegetable oil
4 medium yellow onions, thinly sliced
1 pint fresh figs, stems removed and halved
1 cup (250 ml) dry red wine
Instructions
Preheat grill top or gas barbecue to medium-high heat. Mix together beef, salt, pepper and Worcestershire sauce. Divide and shape the burger patties into 6 equal portions making an indentation in the center of each patty with your thumb to prevent the patties from puffing on the grill.
Lightly grease the grill rack. Add the patties and cook, turning once, until cooked to desired doneness. During the last minute of grilling, place a slice of cheese on each patty and toast the buns, cut side down.
Add lettuce to the bun bottom. Place the burgers on the lettuce and top with a couple slices of bacon and 2 to 3 tbsp (30 to 45 ml) Fig and Caramelized Onion Jam. Serve immediately.
To make FIG AND CARAMELIZED ONION JAM: Heat vegetable oil in a large saucepan over high heat. Add the onions stirring continuously. As soon as they begin to brown, reduce the heat to low. Cover and cook for 10 minutes, stirring every 2 minutes or so. Remove the lid and continue to cook until the onions are caramelized, about 30 minutes, stirring every 5 minutes or so.
Add figs, red wine and simmer over medium heat until all the wine is absorbed and the figs and onions are cooked into a thick jam.
Drink Pairings