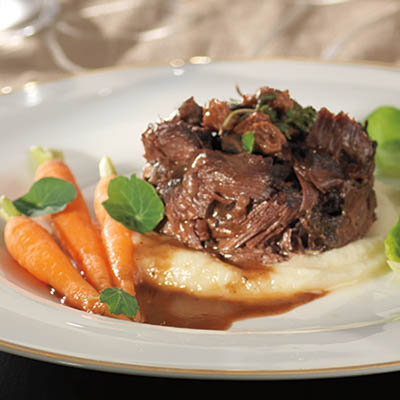 Ingredients
Serves 4
4 beef cheeks, about 1 lb (500 g)
2 tbsp (30 ml) olive oil, divided
1 medium carrot, peeled and roughly chopped
1 medium stalk celery, chopped
1 leek (white only), chopped
6 each, black peppercorns, whole cloves and whole allspice
1 tbsp (15 ml) tomato purée
¾ cup (175 ml) full-bodied red wine
2 cups (500 ml) chicken stock
½ cup (125 ml) sultana raisins
½ cup (125 ml) Celery Root Purée
2 lbs (700 g) peeled celery root cut into 1-in (2-cm) pieces
Instructions
To make BEEF CHEEKS: Pre-heat oven to 325 F (160 C). Pat beef cheeks dry and season with salt and pepper. In a saucepan, heat 1 tbsp (15 ml) of oil, add beef cheeks and cook, in batches, turning halfway, for 4 to 5 minutes or until browned. Remove and set aside.
Add remaining oil to pan and add vegetables and garlic. Cook until golden. Add thyme, peppercorns, cloves and allspice, stirring to combine with vegetables. Stir in tomato purée and cook for 2 minutes.
Pour red wine into pan and stir, scraping bottom. Add beef cheeks and pour enough chicken stock to cover. Bring to a boil, cover and place in oven. Bake for 2 to 3 hours, or until the meat is tender and almost falling apart. Remove, let cool slightly and shred meat. Cover loosely with foil to keep warm.
Pour sauce into a fine mesh strainer set over a large saucepan. Bring to a boil over high heat. Reduce heat to simmer, add raisins and cook until sauce has reduced by half.
Place a pastry ring in middle of a plate and add Celery Root Purée. Add shredded cheeks and top with sauce. Serve with seasonal vegetables.
To make CELERY ROOT PURÉE: Place garlic and thyme in a piece of cheesecloth, tie with kitchen twine to enclose. Place in a medium saucepan along with celery root and enough milk to cover. Bring to a simmer over medium heat until celery root is very tender, 20 to 30 minutes.
Strain mixture through a fine mesh sieve set over a bowl, reserving ½ cup (125 ml) of milk and discarding cheesecloth bundle. Process celery root and milk in a blender in batches. Taste and season with salt and pepper.
Drink Pairings