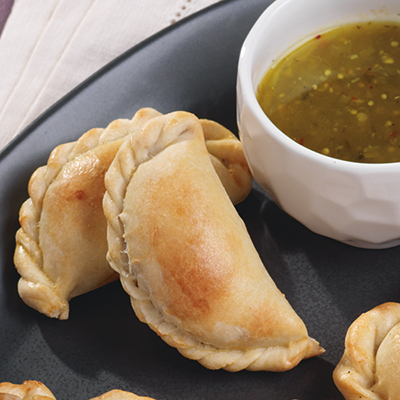 Ingredients
Serves 4 to 10
1 tbsp (15 ml) vegetable oil
2 tbsp (30 ml) all-purpose flour
2 x 9-in (23 cm) frozen pie shells
egg wash (1 egg yolk mixed with 1 tbsp (15 ml) milk)
salsa and sour cream, to serve (optional)
Instructions
In a medium-sized skillet over medium heat, heat oil. Sauté onion until translucent. Add beef and taco seasoning. Cook meat thoroughly. Set aside to cool completely.
Heat oven to 375 F (190 C).
Dust a flat surface with flour. Place pie shells on surface. Using a 4-in (10 cm) round cookie cutter, cut 10 rounds. Roll out each round once or twice until dough is ⅛-in (0.25 cm) thick.
Place some cooled beef mixture in centre of each round. Using a pastry brush, brush half of each round with egg wash. Fold round in half over filling to form a crescent. Take one corner of empanada and pinch hard until it forms an overlap. Fold overlap over remaining dough to form pleats until you have reached the end. Using a pastry brush, brush outside with egg wash.
Bake on baking sheet for 15 to 20 minutes or until golden brown.
Serve with salsa and sour cream.
Drink Pairings