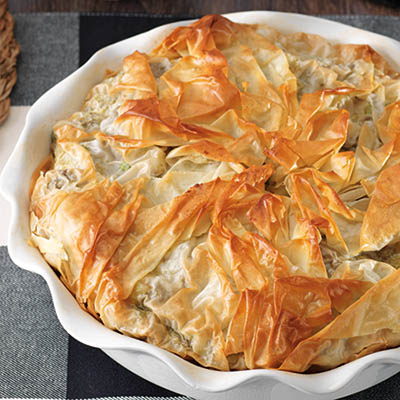 BEEF SAMOSA PIE SERVED WITH PINEAPPLE GINGER CHUTNEY
Ingredients
Serves 6 to 8
4 medium russet potatoes, peeled and quartered
3 garlic cloves, finely minced
2 medium onions, finely chopped
1-in (2.5 cm) ginger knob, peeled and finely chopped
1 jalapeño pepper, seeded and finely chopped
1 tbsp (15 ml) garam masala
1 to 2 tbsp (15 to 30 ml) curry powder
1 tsp (5 ml) ground cumin
½ tsp (2 ml) dried red chili flakes
1 lb (500 g) ground lamb or lean ground beef
½ tsp (2 ml) freshly ground pepper
2 tbsp (30 ml) lemon juice
¼ cup (60 ml) finely chopped cilantro
1 cup (250 ml) frozen peas
butter, to grease pie plate and brush pastry
PINEAPPLE GINGER CHUTNEY:
¼ cup (60 ml) vegetable oil
1 medium red onion, cut into ½-in (1.25 cm) dice
¼ cup (60 ml) minced ginger
1 tbsp (15 ml) minced garlic
1 tbsp (15 ml) finely chopped jalapeño peppers
3 tbsp (45 ml) curry powder
1½ cups (375 ml) white vinegar
½ cup (125 ml) fresh orange juice
zest and juice from 1 lime
1 cup (250 ml) brown sugar
½ cup (125 ml) golden raisins
1 medium pineapple, cut into ½-in (1.25 cm) dice
Instructions
Boil potatoes in a pot of salted water until tender. Drain well and let cool. Dice into ½-in (1.25 cm) and place in a medium bowl. Set aside.
In a large saucepan, heat olive oil over medium-high heat. Add garlic, onions, ginger and jalapeño. Cook until onions are soft. Add spices and cook 1 minute. Add the ground lamb or beef and cook until no longer pink. Add to diced potatoes along with the salt, pepper, lemon juice, cilantro, eggs and frozen peas. Stir well to mix thoroughly. Set aside.
Preheat oven to 375 F (190 C).
Brush the bottom and sides of a deepdish pie plate with melted butter and drape one sheet of phyllo pastry over it. Brush sheet with melted butter, then place another sheet of phyllo on top, leaving excess to hang over the edge. Repeat the process with a total of 4 sheets. You should have enough overhang on all sides to cover the filling once folded in. Spoon the cooled filling into the phyllo-lined pie plate and fold in overhanging edges, then ruffle or lightly crunch the phyllo, then butter top crust.
Bake in oven for 30 to 40 minutes, or until pastry is golden and filling is set. Let rest 10 minutes before slicing and serving.
To make PINEAPPLE GINGER CHUTNEY: Heat oil in a saucepan over medium-high heat. Add red onion and cook until translucent, about 3 minutes. Add ginger, garlic and jalapeño, stir for 1 minute.
Add curry powder to a dry saucepan and heat until it just starts to smoke and become fragrant. Add white vinegar, orange juice, lime juice and zest, brown sugar, raisins and pineapple. Mix well.
Add curry mixture to onion mixture and simmer, stirring occasionally, until liquid has thickened slightly, 15 to 20 minutes. Remove from heat and allow to cool to room temperature. Store refrigerated in an airtight container for up to 2 weeks.
Drink Pairings