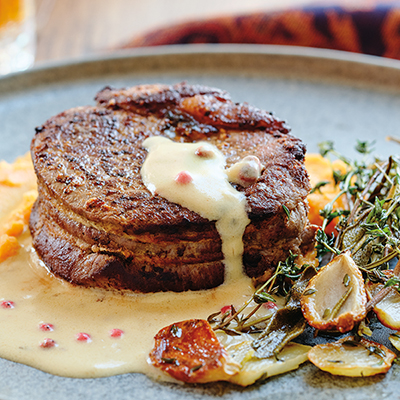 BEEF TENDERLOIN TOURNEDOS WITH WHISKY CREAM
Ingredients
Serves 4
1½ lbs (750 g) beef tenderloin, well-trimmed and cut into 4 equal pieces
3 tbsp (45 ml) Dijon mustard, divided
1 tsp (5 ml) sea salt, plus extra to taste
2 tsp (10 ml) coarsely ground black pepper, plus extra to taste
6 tbsp (90 ml) unsalted butter, divided
1 small handful fresh rosemary, thyme and sage sprigs
4 medium garlic cloves, thickly sliced
3 tbsp (45 ml) minced shallot
2 tsp (10 ml) whole pink peppercorns
≈ cup (150 ml) Scotch whisky
½ cup (125 ml) whipping cream
2 to 3 tbsp (30 to 45 ml) fresh lemon juice, to taste
Instructions
Rub beef with 1 tbsp (15 ml) Dijon and season with 1 tsp (5 ml) salt and 2 tsp (10 ml) pepper, coating all sides. Set aside at room temperature for 30 minutes.
Preheat oven to 450 F (230 C).
Heat a medium cast iron pan over medium-high until quite hot. Add olive oil and 2 tbsp (30 ml) butter. When butter is just sizzling, immediately add beef and sear on all sides, turning, about 3 minutes total. Scatter herbs and garlic into pan and transfer to oven. Roast for 10 to 12 minutes for medium rare. Remove from oven; allow beef to rest in pan for 5 minutes.
Meanwhile, make the whisky cream. In a medium pan over medium-low heat, melt 2 tbsp (30 ml) butter, add shallot and pink peppercorns and sauté until softened, about 4 minutes. Pour in whisky, warm for 1 minute, then stir in cream and remaining 2 tbsp (30 ml) Dijon. Whisk and bring to a boil. Reduce heat and simmer for 4 to 5 minutes, or until sauce thickens. Season to taste with salt and black pepper and whisk in remaining 2 tbsp (30 ml) butter and lemon juice, to taste.
To serve, spoon a generous pool of whisky cream into centre of 4 medium plates. Place beef tournedos on sauce and spoon a little sauce over top. Garnish with roasted herbs and garlic from pan and serve immediately with remaining whisky cream on the side.
Drink Pairings