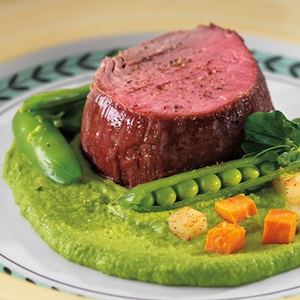 BEEF TENDERLOIN WITH PEA PURÉE
Ingredients
Serves 4
2 to 3 lbs (1 to 1.5 kg) centre-cut trimmed beef tenderloin
kosher salt and freshly ground black pepper
½ cup (125 ml) unsalted butter, divided
1 shallot, roughly sliced
coarse sea salt such as fleur de sel or Maldon salt, for serving
2 cups (500 ml) snap peas, steamed
1 cup (250 ml) fresh pea shoots
¼ cup (60 ml) shallots, minced
¼ cup (60 ml) unsalted butter
4 cups (1 L) sweet green peas (fresh or frozen)
½ cup (125 ml) whipping cream
1 tbsp (15 ml) fresh mint, optional
salt and freshly ground black pepper, to taste
Instructions
Tie tenderloin at 1-in (2.5 cm) intervals using kitchen twine. Pat dry and season generously with kosher salt and pepper. Transfer to a wire rack set in a foil-lined, rimmed baking sheet and refrigerate uncovered.
When ready to cook, adjust oven rack to centre position and preheat oven to 275 F (140 C). Brush tenderloin with ¼ cup (60 ml) melted butter and place baking sheet with rack and tenderloin in oven and roast until internal temperature registers 120 to 125° F (49 to 52 C) on an instant-read thermometer, about 1¼ to 1½ hours. Remove from oven and set aside at room temperature for 10 minutes. Cut twine and remove.
Heat remaining ¼ cup (60 ml) butter in a medium-sized frying pan, swirling over high heat until foaming subsides and butter turns a light nutty brown. Add tenderloin, thyme and sliced shallot and cook, turning roast occasionally, spooning hot butter and aromatics over meat until well browned on all sides and internal temperature registers 125 F (52 C) for rare or 130 F (54 C) for medium-rare, about 1 to 2 minutes.
Transfer tenderloin to cutting board and allow to rest for 20 minutes, loosely covered with foil.
To make PEA PURÉE: In a saucepan, sauté minced shallots in melted butter for a couple of minutes until translucent. Add peas and cream and simmer for about 3 minutes. Add mint, if using, and pour into a blender. Purée until smooth. Add salt and pepper to taste. Return to saucepan and keep warm until serving.
To serve, carve tenderloin into 2-in (5 cm) slices and serve on a ladle of Pea Purée, steamed snap peas and garnish with pea shoots. Add some sautéed cubes of potatoes and yams (optional). Sprinkle with coarse sea salt or Maldon salt.
Drink Pairings