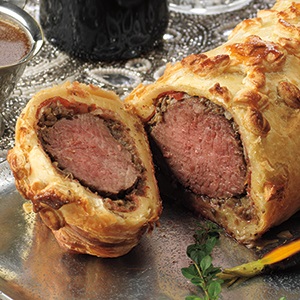 BEEF WELLINGTON SERVED WITH MERLOT SAUCE
Ingredients
Serves 6 to 8
TENDERLOIN WITH MUSHROOMS DUXELLES
2 to 2½ lbs (1 to 1.25 kg) centre-cut beef tenderloin, about 7-in x 3½-in (18 x 9 cm) olive oil, to grease pan
salt and freshly ground black pepper
3 tbsp (45 ml) unsalted butter
3 cups (750 ml) button mushrooms, cleaned and chopped
1 large shallot, peeled and minced
1 large garlic clove, minced
⅓ cup (75 ml) port or dry sherry, to deglaze pan
8 thin slices Parma ham or prosciutto
1 x 500 g package puff pastry, 2 sheets
¼ cup (60 ml) all-purpose flour, divided
1 cup (250 ml) diced celery
1 cup (250 ml) peeled and diced carrots
1 cup (250 ml) diced sweet onions
2 cups (500 ml) beef stock
2 sprigs each, fresh rosemary, thyme and parsley
salt and freshly ground black pepper
Instructions
Heat oven to 425 F (220 C). Place tenderloin in a lightly oiled roasting pan. Generously season with salt and black pepper. Roast in centre of oven, uncovered, for 30 minutes or until a meat thermometer registers 130 F (54 C) when inserted into centre. Remove pan and rest at room temperature until pan is slightly cooled. Cover and refrigerate for 30 minutes.
For Mushroom Duxelles, place chopped mushrooms in a food processor fitted with a metal blade and pulse until mushrooms are finely minced but not puréed. Melt butter in a large frying pan. Add mushrooms, shallot, garlic and thyme and sauté over medium-low heat for 5 minutes or until mushrooms have released liquid and are starting to cook dry. Deglaze pan with port and raise heat to high to evaporate liquid. Remove from heat and discard thyme. Add salt and pepper, to taste. Transfer to bowl, cool, cover and refrigerate until ready to use. Can be refrigerated for several days.
Lay a couple of overlapped sheets of plastic wrap on a clean surface. Overlap Parma ham or prosciutto slices in a row down centre. Spread half the Duxelles in an even layer over top of ham or prosciutto. Place cooled tenderloin crosswise over top and spread with remaining Duxelles. Draw edges of plastic wrap together over top of meat to tightly encase tenderloin in ham or prosciutto. Twist ends of wrap to tightly seal. Refrigerate while rolling out pastry.
To make Pastry, lightly dust work surface with a little flour. Roll out 1 sheet puff pastry into a rectangle large enough to wrap tightly around tenderloin with a slight overlap to seal. Brush edges of pastry with 2 egg yolks whisked with 1 tsp (5 ml) water. Reserve extra. Remove plastic wrap from beef and place in centre of pastry. Carefully gather up edges and firmly wrap beef in pastry. Then press seams and ends together to tightly seal. Place seamside down on a work surface. Set aside.
Add a little more flour to clean work surface. Roll out second sheet of pastry into a rectangle slightly larger than the first. Cut out shapes and designs with a sharp paring knife. Brush with egg yolk mixture and arrange cut-outs decoratively over top of pastry-wrapped tenderloin.
In a small dish, whisk remaining egg yolk. Lightly and evenly brush over entire surface of pastry to fully and evenly coat. Refrigerate uncovered for 45 minutes, or up to 24 hours.
When ready to bake, preheat oven to 400 F (200 C). Bake tenderloin uncovered for 20 to 25 minutes until pastry is deep golden and beef registers 140 to 155 F (60 to 68 C) on a meat thermometer when inserted into centre. Remove from oven and rest on a rack for 10 to 15 minutes.
While tenderloin is baking, prepare Merlot Sauce. Heat oil and butter in a large saucepan. Add celery, carrots and sweet onions. Sauté over medium heat stirring occasionally until golden. Deglaze saucepan with Merlot. Add beef stock and sprigs of herbs and bring to a boil. Cover, reduce heat and simmer for 30 minutes for flavours to blend. Strain and discard vegetables and herbs. Return sauce to pan. Boil vigorously until reduced by half. Add salt and pepper, to taste. Cover to keep warm.
Once tenderloin has rested, transfer to a cutting board and cut into thick slices. Serve with Merlot Sauce, steamed green beans and roasted carrots.
Drink Pairings