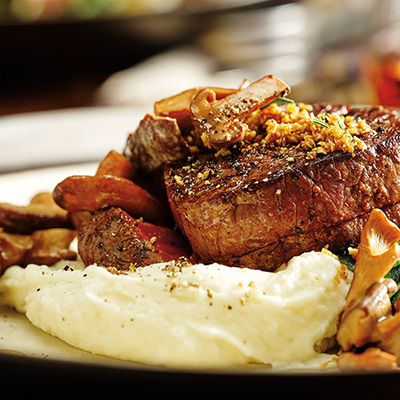 Beef with Whisky Mushroom Cream Sauce
Ingredients
Serves 4
2 lb (1 kg) beef tenderloin, cut into four 8 oz (250 g) steaks
½ cup (125 ml) quick-cooking steel-cut oats
2 tbsp (30 ml) grapeseed oil, divided
1 pinch each garlic powder, onion powder and paprika
salt and pepper, to taste
3 tbsp (45 ml) unsalted butter, divided
8 oz (250 g) mixed mushrooms, chopped or sliced into bite-sized pieces
3 tbsp (45 ml) whipping cream
8 cups (2 L) roughly chopped mixed cooked greens, such as spinach, kale and Swiss chard mashed potatoes, for serving
Instructions
Preheat oven to 350 F (180 C). Remove beef tenderloins from refrigerator and let sit at room temperature for 30 minutes while preparing oat topping.
On a baking sheet, toss together oats, 1 tbsp (15 ml) oil, dried thyme, garlic powder, onion powder, paprika and a pinch of salt. Bake, mixing occasionally, until oats are toasted and mixture is fragrant, about 8 to 10 minutes. Set aside to cool. Increase oven temperature to 400 F (200 C).
Heat remaining 1 tbsp (15 ml) oil in a large ovenproof skillet or frying pan over medium-high heat. Generously season beef tenderloins with salt and pepper. When oil is shimmering, add steaks and sear on each side, about 2 minutes per side. Transfer skillet to oven and roast until meat registers 120 F to 125 F (49 C to 52 C) on a meat thermometer, about 8 to 12 minutes. Remove from oven, transfer to a cutting board and let rest for 10 minutes.
To make Whisky Mushroom Cream Sauce, place skillet back over medium-high heat and add 2 tbsp (30 ml) butter. Once butter stops foaming, add mushrooms, thyme and a pinch of salt, and sauté until mushrooms start to brown, about 5 minutes. Deglaze pan with whisky and reduce to 1 tbsp (15 ml). Stir in stock and cream and simmer until sauce has thickened slightly, about 4 minutes. Remove skillet from heat and season sauce with salt to taste. Discard thyme sprig.
Melt remaining 1 tbsp (15 ml) butter in a frying pan over medium-high heat. Add mixed greens, water and a pinch of salt. Sauté until wilted and liquid has evaporated, about 4 minutes. Remove from heat and season with salt and pepper to taste.
To serve, arrange a dollop of mashed potatoes and mixed greens on each serving plate. Top with tenderloin and sprinkle some oat topping over steak. Drizzle Whisky Mushroom Cream Sauce around plate and serve.
Drink Pairings