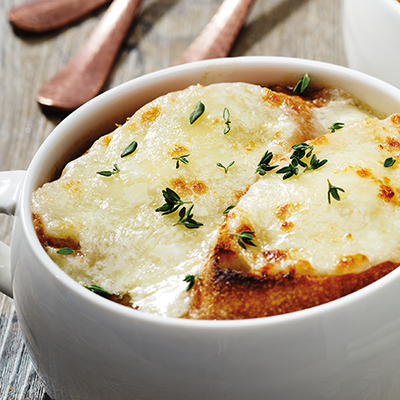 Ingredients
Serves 4
2 tbsp (30 ml) unsalted butter
2 tsp (10 ml) grapeseed oil
1 cup (250 ml) Guinness beer
½ tsp (2.5 ml) dried thyme
1 tsp (5 ml) light brown sugar
½ tsp (2.5 ml) Worcestershire sauce
4 cups (1 L) no-salt-added beef broth
salt and pepper, to taste
8 slices wholegrain baguette
1½ cups (375 ml) grated old cheddar cheese
⅓ cup (75 ml) grated Parmesan
fresh thyme leaves, for garnish (optional)
Instructions
Preheat oven to 400 F (200 C).
Slice all onions into about ¼-in (0.5 cm) thick rings. In a large, wide saucepan, melt butter and oil over medium heat. Cook onions, separating rings and stirring frequently, until they start to turn golden, about 10 minutes. Add beer, thyme, sugar and Worcestershire sauce; increase heat to medium-high and bring to boil, uncovered and stirring often until liquid is reduced by half, about 5 minutes. Stir in beef broth. Bring to a boil before reducing heat to a simmer. Cover and simmer for 5 to 10 minutes to develop flavours. Season to taste with salt and pepper.
Place bread in a single layer on a baking sheet and toast lightly. Remove and increase oven temperature to 450 F (230 C).
Meanwhile, in a small bowl, stir together cheddar, Parmesan and sour cream.
Ladle soup into 6 heatproof soup bowls or individual casserole dishes, leaving about ½-in (1.25 cm) space from top of dish. Place soups on a baking tray.
Spread cheese mixture over toasts and float 2 pieces on each bowl of soup. Bake until cheese is golden and soup bubbles, about 10 minutes. Garnish with a sprinkle of fresh thyme leaves and serve immediately.
Drink Pairings