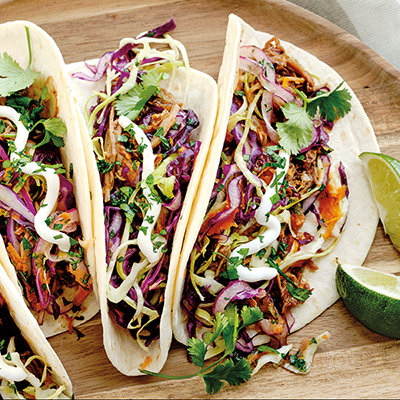 BEER-BRAISED PULLED PORK TACOS
Ingredients
Serves 10 to 12
3 tbsp (45 ml) kosher salt
1 tbsp (15 ml) each dried oregano, dry mustard, black pepper, garlic powder, onion powder and brown sugar
½ tsp (2.5 ml) cayenne pepper
5 to 7 lbs (2.5 to 3.5 kg) boneless pork shoulder or picnic shoulder
12 oz (340 ml) light, citrusy beer
taco shells, slaw, lime wedges, chopped cilantro leaves, sliced red onion and crema or sour cream, to serve
CIDER VINEGAR BARBECUE SAUCE:
¼ cup (60 ml) Dijon mustard
¼ cup (60 ml) packed brown sugar
3 tbsp (45 ml) cider vinegar
1 canned chipotle pepper, minced
2 large garlic cloves, minced
1 tbsp (15 ml) ground cumin
½ tsp (2.5 ml) black pepper
¼ tsp (1 ml) cayenne pepper
Instructions
In a bowl, mix paprika, salt, oregano, dry mustard, black pepper, garlic powder, onion powder brown sugar and cayenne. Rub mixture all over pork, working into meat. Wrap and refrigerate for at least 1 hour but preferably overnight.
Preheat oven to 500 F (260 C).
Unwrap pork and place in roasting pan, fat side up, and roast uncovered for about 40 minutes, or until meat is nicely browned with some blackened spots. Reduce oven temperature to 300 F (150 C). Pour beer over pork. Cover roasting pan with lid or tightly seal with foil and roast for about 4 hours or until meat falls apart easily.
While pork is roasting, prepare Cider Vinegar Barbecue Sauce.
When pork is tender, remove from oven. Allow to rest for about 10 minutes. Transfer, along with any juices that collected in the pan, to a large bowl. When cool enough to handle, drain excess juices into a separate bowl. Shred pork using 2 forks or your fingers, adding just enough juice to moisten meat. Mix in Cider Vinegar Barbecue Sauce and a little more pan juice if necessary; meat should be nice and juicy.
If not serving right away, refrigerate to cool, then cover tightly. Simply reheat in a heavy saucepan or tightly covered casserole dish in a 350 F (180 C) oven to serve. Serve spooned into soft tacos with a little shredded slaw, lime juice, cilantro and sliced red onion. Add a drizzle of crema or sour cream on top, if desired.
For the cider vinegar barbecue sauce, combine all ingredients in a saucepan. Simmer over medium heat, stirring, for 10 minutes, until sugar dissolves. Remove from heat and set aside until ready to use. Sauce can be made ahead, cooled and refrigerated in an airtight container for several days, if desired. Makes about 1¼ cups (310 ml).
Drink Pairings