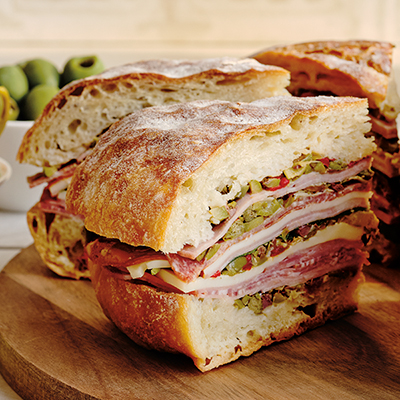 Ingredients
Serves 8
425 g (15 oz) all-purpose flour, plus extra for dusting
1½ tsp (7 ml) fine sea salt
½ tsp (2.5 ml) active dry yeast
1½ cups (375 ml) warmed Steamworks Pale Ale (about 110 F/43 C)
1 cup (250 ml) pitted green olives, finely chopped
½ cup (125 ml) pitted kalamata olives, finely chopped
½ cup (125 ml) chopped roasted red peppers
½ cup (125 ml) chopped marinated artichoke hearts
2 pepperoncini, stemmed and finely chopped
2 tbsp (30 ml) capers, roughly chopped
⅓ cup (75 ml) extra-virgin olive oil
3 tbsp (45 ml) red wine vinegar
1 tsp (5 ml) dried oregano leaves
2 oz (60 g) sliced provolone
2 oz (60 g) sliced mozzarella
4 oz (120 g) sliced mortadella
2 oz (60 g) sliced capicola
2 oz (60 g) sliced salami
2½ oz (90 g) sliced hot soppressata
Instructions
To make Beer Bread, in a large mixing bowl, whisk together flour, salt and yeast. Add in beer and stir with a wooden spoon until ingredients are well incorporated and a loose, shaggy dough forms. Cover bowl with plastic wrap and let rest at room temperature for 12 to 18 hours. Dough should be about doubled in volume.
Transfer dough to a well-floured surface. Imagine dough ball as a clock and, starting at the 12:00 mark, lightly pull outer edge of dough out and fold it back into the centre. Repeat this stretch and fold motion at roughly every "hour" point around the "clock." Fold and stretch dough all the way around 2 to 3 times, until dough feels a bit tighter and holds its shape. Form into a ball by gently cupping your hands around dough and moving your hands in unison in a counterclockwise motion until dough holds its shape. Lightly flour top of dough ball, then carefully flip it upside down onto a sheet of parchment paper, so smooth side is facing up. Lightly flour top again, then loosely cover with plastic wrap or a clean tea towel. Let rest for 1 hour. Dough should be slightly puffed up and just under doubled in size.
Thirty minutes before end of dough's second rest, place a lidded Dutch oven inside oven and preheat to 450 F (230 C).
When dough has finished its second rest, carefully remove Dutch oven from oven and remove lid. Lift edges of parchment paper and transfer dough ball, along with parchment paper, into Dutch oven. Cover and bake for 30 minutes. Remove lid and continue to bake until crust reaches desired level of doneness, about another 10 to 20 minutes. Carefully transfer bread to a wire rack to cool to room temperature. If not using right away, bread may be stored at room temperature, loosely wrapped in a clean tea towel for up to 2 days.
Meanwhile, make Olive Relish. In a medium bowl, stir together both kinds of olives, red peppers, artichokes, pepperoncini, capers and garlic. Add olive oil, vinegar and oregano and stir to blend. Refrigerate for at least 1 hour.
When ready to assemble, cut bread loaf in half crosswise. Using clean kitchen scissors or your fingers, hollow out each half of the loaf about ½-in (1.25 cm) deep, leaving ½-in (1.25 cm) on sides. (Reserve scooped-out bread for another use, such as to make fresh bread crumbs or croutons.)
Drain prepared Olive Relish in a fine mesh sieve set over a small bowl. (Save olive oil mixture that drains off, as it makes a great salad dressing.) Divide relish between hollowed-out bread halves and press it firmly into bread. Top bottom half evenly with cheeses and meats, folding them as necessary to fit. Cover with arugula. Carefully invert top half onto bottom half, pressing gently. Wrap sandwich tightly in plastic wrap and weigh down with a heavy cast iron pan placed right on top of sandwich and refrigerate overnight. The next day, when ready to serve, cut into wedges and enjoy.
Drink Pairings