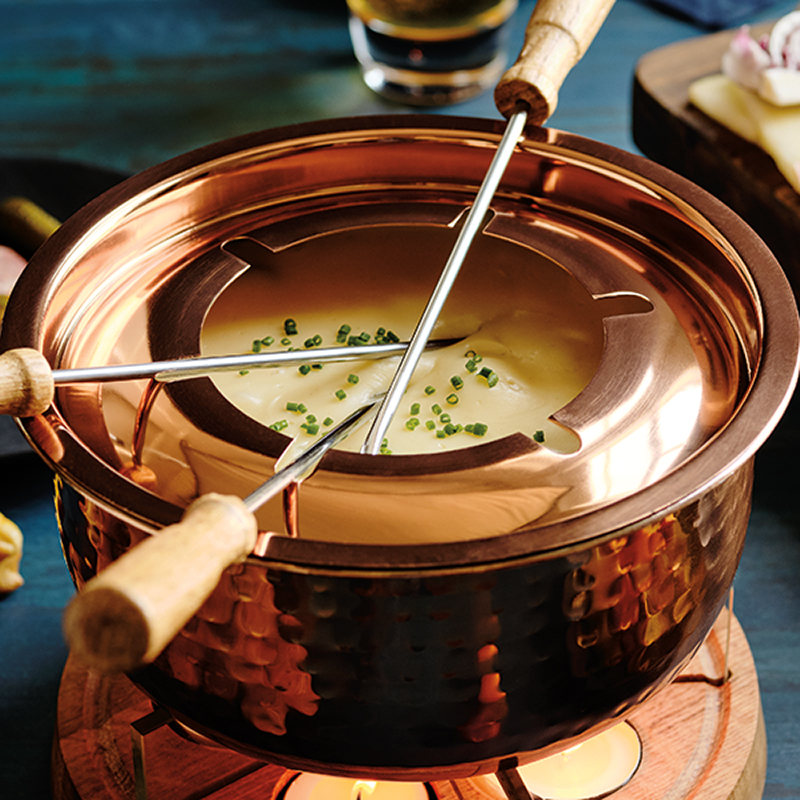 BEER & CHEESE FONDUE SERVED WITH MUSTARD PRETZEL BITES
The perfect après treat: beer and cheese fondue with pretzel bites. The pretzel bites recipe can be found on our recipes page.
Ingredients
Serves Serves 4 to 6
½ lb (250 g) Brussels sprouts, halved
2 tbsp (30 ml) extra-virgin olive oil
salt and pepper, to taste
1 cup (250 ml) pilsner beer
½ lb (250 g) Gruyère cheese, grated
½ lb (250 g) raclette cheese, grated
¼ lb (125 g) fontina cheese, grated
¼ lb (125 g) smoked Gouda cheese, grated
1½ tbsp (22 ml) cornstarch
1 tbsp (15 ml) whipping cream
Mustard Pretzel Bites, make ahead, recipe follows, to serve
1 large garlic sausage, sliced 1-in (2.5 cm) thick, to serve
2 radicchios, cut into 8 pieces, to serve
1 apple, cored and sliced, to serve
6 radishes, halved, to serve
1 small jar cornichons, to serve
16 cherry tomatoes, to serve
3 endives, quartered, to serve
Instructions
Preheat oven to 375 F (190 C). Toss Brussels sprouts with olive oil and season to taste with salt and pepper. Transfer to a baking sheet and roast until golden brown and cooked through, about 20 to 25 minutes. Set aside.
In a medium, heavy-bottomed saucepan, bring garlic and beer to a simmer over medium heat. In a bowl, toss grated cheeses with cornstarch. Once beer starts to simmer, reduce heat to low and add in a handful of cheese at time, stirring well after each addition and only adding more once cheese has melted. When all cheese has been incorporated, add cream and mix well. Transfer to a pre-warmed fondue bowl, garnish with chives, and serve with Mustard Pretzel Bites and remaining ingredients.
Featuring