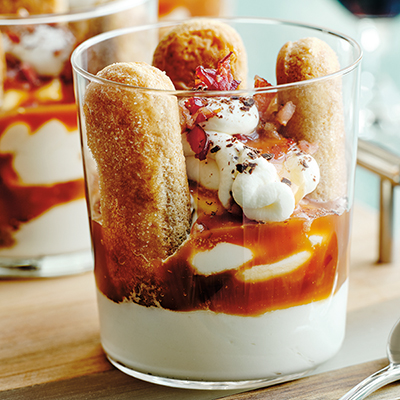 Beeramisu with Caramel and Bacon Crumble
Ingredients
Serves 4
1 cup (250 ml) whipping cream
¼ cup (60 ml) granulated sugar
½ tsp (2.5 ml) pure vanilla extract
1 cup (250 ml) mascarpone
½ cup (125 ml) espresso, room temperature
½ cup (125 ml) chocolate flavoured stout
1 oz (30 g) dark chocolate, shaved, for garnish
3 strips cooked bacon, patted dry and crumbled
1 cup (250 ml) granulated sugar
6 tbsp (80 ml) unsalted butter, diced
½ cup (125 ml) whipping cream
½ tsp (2.5 ml) kosher salt
*In a pinch? Substitute with store bought instead!
Instructions
In a deep bowl, using an electric mixer, whip cream and sugar until soft but firm peaks form. Whip in vanilla. Gently fold in mascarpone until blended. Set aside. Stir together espresso and stout in a shallow bowl.
Place 1 generous scoop whipped mascarpone cream in bottom of a serving glass. One at a time, roll ladyfingers in espresso mixture for about 5 seconds. Be quick or cookies will become soggy. Stand 3 dipped cookies upright inside glass, tucking into cream to hold. Drizzle with Caramel Sauce and sprinkle with some of the crumbled bacon. Add another layer of cream, then more caramel and bacon. Dollop with cream and top with bacon and chocolate shavings. Repeat with remaining serving glasses. Serve immediately or refrigerate for up to 4 hours.
For the caramel sauce, in a small heavy-bottomed saucepan, stir sugar over medium heat until melted and pale golden, about 3 to 8 minutes, depending on your stove. Stir in butter until melted, about 1 minute. Gradually stir in whipping cream. It will sputter and foam up, but keep stirring for 2 minutes. Remove from heat and stir in salt. It will thicken as it cools. Transfer to a glass jar. Can be made ahead and stored in refrigerator for up to 2 weeks. Makes about ¾ cup (175 ml).
Drink Pairings