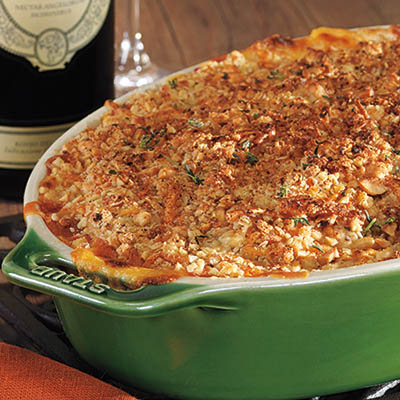 Ingredients
Serves 6
salt and pepper, to taste, plus extra
1¼ lbs (625 g) red Swiss chard, stalks trimmed
⅔ cup (150 ml) unsalted butter, divided
1 ⅓ cups (325 ml) all-purpose flour
2 cups (500 ml) whole milk
2 cups (500 ml) grated sharp cheddar
2 tbsp (30 ml) dry mustard
1 tsp (5 ml) Worcestershire sauce
1 pinch crushed red pepper flakes
12 oven-ready, whole wheat lasagna noodles
¼ cup (60 ml) quick rolled oats
¼ cup (60 ml) chopped hazelnuts. toasted
2 tbsp (30 ml) grated Pecorino Romano cheese
1 tsp (5 ml) chopped fresh thyme
Instructions
Add beets, thyme, garlic, good pinch of pepper and a few generous pinches of salt to large saucepan. Cover with cold water and bring to simmer over medium-high heat. Cook until beets are tender, about 20 to 30 minutes depending on size. With a slotted spoon, remove beets to a bowl to cool. Once cool enough to handle, peel and slice crosswise into ¼-in (0.5 cm) thick slices. Set aside.
In batches, add chard leaves to saucepan of water and cook until wilted, about 1 minute. Remove and transfer immediately to bowl of ice water. Drain well, roughly chop and set aside.
To make a béchamel sauce, in small saucepan over low heat, melt ⅓ cup (75 ml) butter. Whisk in ⅔ cup (150 ml) flour. Cook, stirring constantly for 2 minutes allowing to cook but not brown. Slowly whisk in milk until mixture forms a thick, smooth sauce. Stir in cheddar to melt. Stir in mustard powder, Worcestershire and red pepper flakes. Season with salt and pepper before setting aside.
To make crumble topping, in a small bowl stir together remaining ⅔ cup (150 ml) flour, oats and hazelnuts. With fingertips work in remaining ⅓ cup (75 ml) butter and Pecorino Romano cheese before seasoning with nutmeg, salt and pepper.
Preheat oven to 350 F (180 C) while assembling lasagna. Spread a layer of béchamel sauce over bottom of a 2 qt (2 L) casserole dish. Top with a layer of sliced beets then layer of cooked chard. Season with salt, pepper and sprinkle of fresh thyme before covering with 3 lasagna noodles, cutting noodles to fit. Continue layering until dish is full, about 3 or more times, ending with layer of béchamel. Cover surface with crumble topping. Bake until bubbling and golden, about 30 to 45 minutes. Serve warm.
Drink Pairings