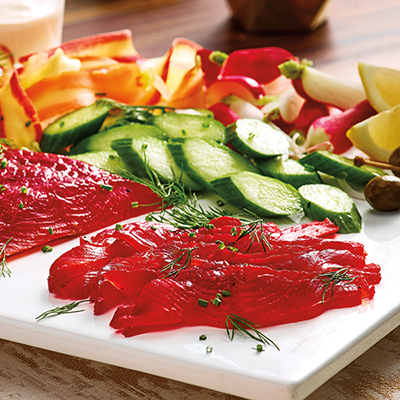 BEET-CURED SALMON PLATTER
Ingredients
Serves 10 to 12
1 cup (250 ml) kosher or sea salt
1 tbsp (15 ml) lemon zest
2 tsp (10 ml) ground coriander
2 tbsp (30 ml) black pepper
2 lbs (1 kg) wild sockeye salmon
1 beet, peeled and grated
1 bunch fresh dill, roughly chopped
4 baby cucumbers, sliced, to serve
2 carrots, sliced thinly on a mandolin, to serve
6 radishes, cut into wedges, to serve
1 lemon, cut into wedges, to serve
1 handful caper berries, to serve
½ bunch fresh dill, to serve
1 shallot, sliced, to serve
1 cup (250 ml) crème fraîche, to serve
1 package crostini, to serve
Instructions
Mix together salt, sugar, lemon zest, ground coriander and pepper and set aside.
Lay 2 sheets of plastic wrap on a rimmed baking sheet, making sure they overlap. Place half of salt mixture on plastic wrap and spread it to size of salmon. Lay salmon, skin-side down, on salt mixture, then cover with remaining salt. Mix beet and dill together, then pack it on top of salt mixture on salmon. Wrap with plastic wrap and weigh it down with another baking sheet and a couple of cans. Let salmon cure in refrigerator for 48 hours.
After 48 hours, remove salmon from refrigerator and unwrap it. Thoroughly wipe off salt and beets with a paper towel. Thinly slice salmon and arrange on platter with remaining ingredients, to serve. You can use what we've suggested here, or come up with your own accompaniments.
Drink Pairings