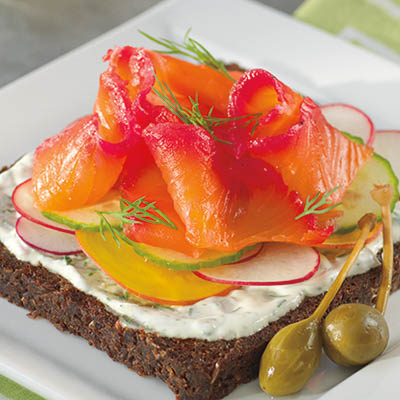 BEET-CURED STEELHEAD TROUT ON DARK RYE
Ingredients
Serves 6 open faced sandwiches
¾ cup (175 ml) granulated sugar
½ cup (125 ml) kosher salt
½ tsp (2 ml) freshly ground black pepper
2 tbsp (30 ml) chopped fresh dill
1½ lbs (750 g) steelhead trout fillet, scaled, pin-bones removed, skin left on
1 large red beet, peeled and grated
¼ cup (60 ml) Greek yogurt
3 tbsp (45 ml) mayonnaise
3 tbsp (45 ml) chopped fresh dill, plus extra for garnish
2 tsp (10 ml) fresh lemon juice
1 tsp (5 ml) chopped capers
1 tbsp (15 ml) finely chopped red onion
salt and freshly ground black pepper, to taste
6 pieces dark rye or Pumpernickel bread, toasted
2 tbsp (30 ml) salted butter
½ English cucumber, thinly sliced into rounds
½ yellow zucchini or yellow beet, thinly sliced into rounds
3 radishes, trimmed and thinly sliced
Instructions
Line dish large enough to hold trout fillet with a double layer of aluminum foil and a layer of plastic wrap. In a bowl, stir together sugar, salt, pepper, dill and lemon zest. Scatter half the sugar mixture in a fat line down centre of prepared dish. Place trout fillet on top, skin-side down and sprinkle with vodka before covering with remaining sugar mixture. Place grated beet on top of sugared flesh side of fish. Wrap tightly with plastic wrap trout is sitting on and allow to cure in refrigerator for 2 days, flipping fish over after 24 hours. Unwrap fish, rinse off beet and sugar mixture under cold water and pat dry with paper towel. Slice fillet very thinly across fish on the bias, taking care to leave behind skin. Fan out on plate, wrap with plastic wrap and refrigerate until ready to use.
In a bowl, whisk together yogurt, mayonnaise, dill, lemon juice, capers and red onion. Season to taste with salt and pepper. Refrigerate until ready to use.
Just before ready to serve, spread bread with butter and then some lemondill sauce. Divide cucumber, zucchini and radishes equally among bread slices. Top with trout and garnish with dill sprigs, if desired. Serve immediately.
Drink Pairings