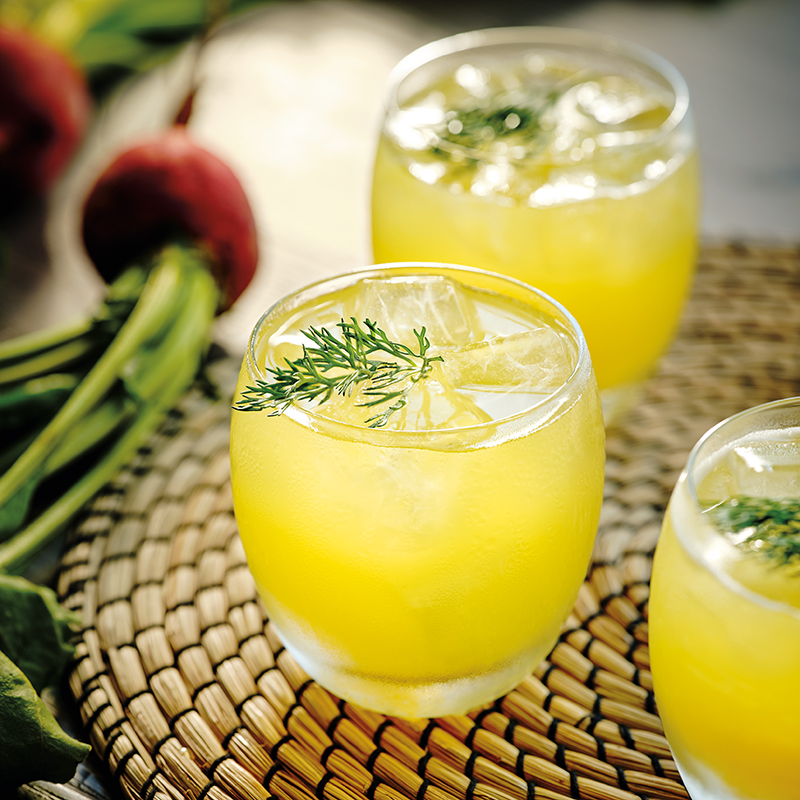 Beet-Nyk
Raise a glass to the farm-to-glass trend this fall with cocktails made with root vegetables. Prized for their natural sweetness, savoury flavours and vibrant colour, these earthy ingredients taste good not only on the plate but also in the glass.
Ingredients
Serves 1
4 cubes cooked* yellow beets, (4 x 1-in (2.5 cm) cubes)
1½ oz (45 ml) Luksusowa Vodka
¾ oz (22 ml) simple syrup
2 oz (60 ml) sparkling apple juice
1 sprig fresh dill, for garnish
Instructions
In a cocktail shaker, muddle cooked yellow beets. Add vodka, lemon juice, simple syrup and cubed ice, shake vigorously to combine. Fine strain into a chilled short round glass, top with sparkling apple juice then fill glass with cubed ice. Garnish with a sprig of dill.
*To cook yellow beets, remove stems and leaves of 3 to 4 yellow beets. Clean to remove any dirt or debris. In a small saucepan, place beets and cover with water, add 1 tsp (5 ml) salt and boil covered for 30 to 40 minutes, or until fork-tender.
**Remove beets from saucepan, place in a bowl and let cool until easy enough to handle. Then use fingers to remove beet skin and cut beets into 1-in (2.5 cm) pieces.
Featuring