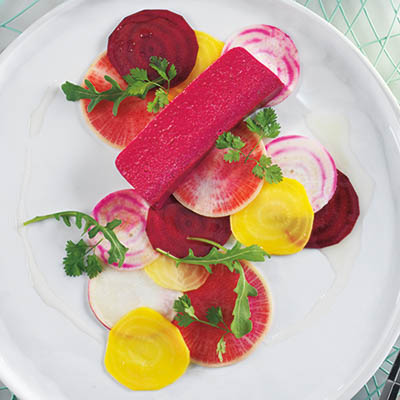 BEETROOT MOUSSE WITH SPRING VEGETABLE ESCABECHE
Ingredients
Serves
1 lb (500 g) + 1 red beets, divided
½ cup (125 ml) cold water
4 tsp (20 ml) unflavoured gelatin
2 tbsp (30 ml) unsalted butter
2 tbsp (30 ml) red wine vinegar
1 tbsp (15 ml) apple jelly
1¼ cup (300 ml) Beaujolais red wine
½ cup (125 ml) finely grated Parmesan
3 tbsp (45 ml) prepared horseradish
salt and freshly ground black pepper, to taste
⅔ cup (150 ml) grape seed or vegetable oil
⅓ cup (75 ml) white wine vinegar
1 medium golden beet or candy cane beet, thinly sliced
1 large watermelon radish, thinly sliced
1 medium turnip, thinly sliced
watercress or baby arugula, for garnish
Instructions
Line a 9 x 5-in (2 L) loaf pan with a layer of plastic wrap, then a layer of parchment paper. Set aside.
Place red beets in large saucepan and cover with 2-in (5 cm) cold water. Slowly bring to a boil over medium-high heat. Reduce heat to medium-low and simmer beets until tender and a knife pierces easily. Drain beets and set aside until cool enough to handle. Peel and roughly chop all but one red beet.
In a small bowl sprinkle gelatin over ½ cup (125 ml) cold water and allow to bloom for 10 minutes.
In a large frying pan, melt butter over medium heat. Add chopped beets, red wine vinegar and apple jelly and cook, stirring occasionally, for 2 minutes. Add red wine and simmer until reduced by half, about 8 to 10 minutes. Transfer mixture to blender along with gelatin and blend until smooth. Add olive oil, Parmesan and horseradish. Blend again until well incorporated and smooth. Season to taste with salt and pepper. Pour mixture into prepared pan and refrigerate until set, about 6 hours.
To make ESCABECHE: In a saucepan over low heat, warm grape seed oil, white wine vinegar, garlic and thyme. Once warmed, stir in golden beet, radish and turnip slices. Remove from heat and allow to cool to room temperature. While waiting to cool, thinly slice remaining 1 red beet and rinse well under cold water. Add red beet slices along with a good pinch of salt and toss to coat all vegetables well in marinade.
To serve, unmould mousse terrine with help of plastic wrap and slice into ½-in (1.25 cm) slices. Arrange on serving plates and garnish with some of the drained escabeche vegetables and a few pieces of watercress or arugula, if desired. Serve immediately.
Drink Pairings