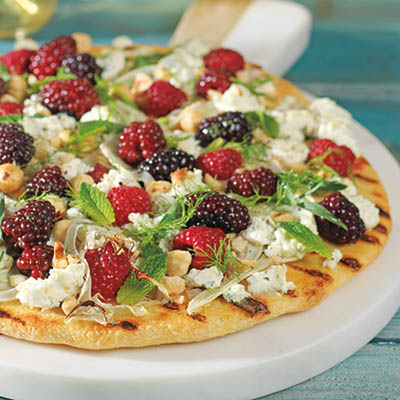 Ingredients
Serves 4
¾ cup (175 ml) warm water
1 tsp (5 ml) liquid honey, plus extra for garnish, optional
½ tbsp (7 ml) active dry yeast
1 tbsp (15 ml) extra-virgin olive oil
1½ cups (375 ml) all-purpose flour
8 oz (250 g) fresh goat's cheese
2 tsp (10 ml) chopped fresh thyme
salt and freshly ground pepper, to taste
1 small fennel bulb, sliced paper thin
1 cup (250 ml) fresh blackberries
½ cup (125 ml) fresh raspberries
¼ cup (60 ml) chopped, toasted hazelnuts
fresh mint leaves, for garnish
fresh tarragon leaves, for garnish
Instructions
In a large bowl, stir together warm water, honey and yeast. Set aside for 5 minutes allowing yeast to bloom. If mixture does not become frothy, yeast may be inactive, repeat step with a new pack. With a wooden spoon, stir in oil before stirring in flour, cornmeal and salt. Turn out dough on to a lightly floured surface and knead until smooth and firm, about 2 minutes.
Place dough in a clean, lightly oiled bowl and turn to coat. Cover bowl with plastic wrap or a clean kitchen towel and set aside in a warm corner to rise until almost doubled in size, about 1 hour. Punch down dough, cover bowl and let rise again, 30 minutes.
Set up a heat source to medium-high on only 1 side of a barbecue. Lightly oil grill.
Turn dough out onto a lightly floured surface and cover with a towel and let rest, 20 minutes.
While dough is resting, combine garlic, goat's cheese and thyme in a bowl. Season to taste with salt and pepper before setting aside.
Dust work surface with flour and roll or stretch dough out into a 10-in (25 cm) round. Brush 1 side lightly with olive oil. Place dough, oiled sided down, onto grill directly over heat. Brush top of dough lightly with oil, and cook until underside has browned and bubbles appear on top, about 1 to 2 minutes. Flip dough and cook until other side has lightly browned, about 1 minute. Move dough to cooler side of barbeque and top with some fennel, goat's cheese mixture, blackberries, raspberries and hazelnuts. Cover grill and cook pizza until toppings are warm and cheese is melted, about 3 to 5 minutes.
Remove pizza to a cutting board, garnish with a drizzle of honey (if using), mint and tarragon. Let stand for a few minutes before slicing and serving while still warm.
Drink Pairings