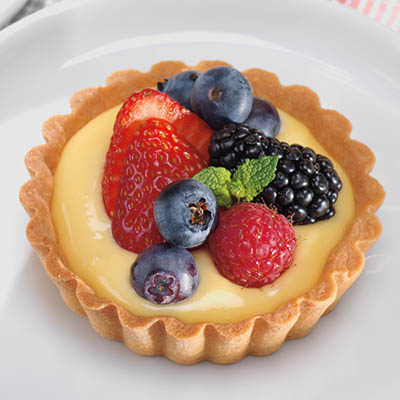 Ingredients
Serves 12 tarts
8 tbsp (120 ml) unsalted butter, room temperature
⅓ cup (80 ml) powdered sugar
1¼ cups (310 ml) all-purpose flour
1 tbsp (15 ml) cream or milk, if needed
1 cup (250 ml) homogenized milk, divided
½ vanilla bean, split and scraped, divided
¼ cup (60 ml) granulated sugar
2 cups (500 ml) fresh berries
Instructions
To make PASTRY: Beat butter and powdered sugar in the bowl of a stand mixer until creamy. Beat in the egg yolk and keep mixing until the yolk is fully combined. Stop the mixer and scrape down the sides and bottom of the bowl.
With the mixer on low speed, beat in the salt and flour, just until the dough comes together and there is no more visible flour. Do not overmix. If the dough appears dry or doesn't hold together at this point, lightly mix in up to 1 tbsp (15 ml) cream or milk. Chill the dough for at least 1 hour, or preferably overnight.
When ready to roll, remove the dough from fridge and let soften on the counter, for about 20 minutes. Roll the dough to ¾-inch (2 cm) thick and cut out circles large enough to fit your mini tart moulds.
Line the mini tart moulds and trim the edges. Poke holes in the dough then chill in refrigerator for 1 hour.
Bake at 375 F (190 C) for 8 to 10 minutes or until light golden brown. Cool before serving.
To make PASTRY CREAM: In a heavy-bottomed saucepan over medium heat, stir together ¾ of the milk and vanilla beans. Bring to a boil.
While milk is heating, in a separate bowl, mix together sugar and egg yolk. Add cornstarch and remaining milk to egg mixture and mix until combined.
Once milk has come to a boil, temper the yolk mix with half the milk, stir to combine. Put back into saucepan and mix with remaining milk. Bring to a boil over medium high heat, stirring constantly. Remove from heat and let cool.
Store with saran wrap directly on custard to prevent skin forming. Pastry Cream can be used once it has cooled to room temperature, or stored in refrigerator for up to 3 days.
Fill each tart shell with pastry cream and decorate with the fresh berries. Serve.
Drink Pairings