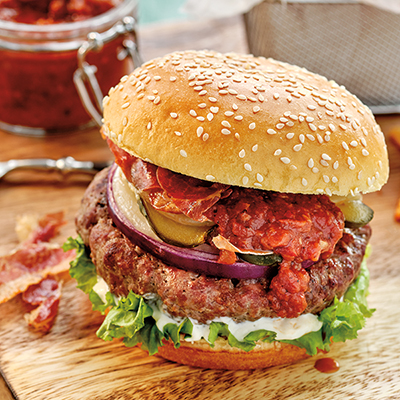 Bison Burgers with Beer-Infused Smoky Tomato Sauce
Ingredients
Serves 6
2 lbs (1 kg) lean ground bison
¼ tsp (1 ml) black pepper
grapeseed oil, for cooking
brioche or sourdough buns
toppings of choice, such as cheese, lettuce, pickles, garlic mayo, mustard, and/or sliced onions
baked potato wedges and beer, to serve
BEER-INFUSED SMOKY TOMATO SAUCE:
2 tbsp (30 ml) grapeseed oil
1 yellow onion, finely diced
1 canned chipotle pepper in sauce, minced
28 oz (796 ml) can diced fire-roasted tomatoes, including liquid
2 tbsp (30 ml) tomato paste
1 tbsp (15 ml) maple syrup
½ tsp (2.5 ml) ground cumin
Instructions
Spread meat out on a baking sheet and sprinkle with salt and pepper. Lightly oil hands then gently shape meat into 6 even-sized patties about 4 to 5-in (10 to 12 cm) in diameter. They should be a little larger than the buns they'll be served on as they will shrink a bit when cooking. Try not to handle meat excessively as it will result in tough burgers. Place patties in a single layer on a large plate or baking sheet. Cover and refrigerate for at least 2 hours, up to 8 hours, to set.
Meanwhile, make Beer-Infused Smoky Tomato Sauce. Heat oil in a medium saucepan over medium heat. Add onion and sauté until soft, about 3 minutes. Add garlic and sauté for 1 minute. Deglaze pan with beer, then continue to cook over medium heat until beer is reduced by half, about 3 minutes or more. Stir in remaining ingredients and bring to a boil. Cover, reduce heat to medium-low and simmer for 15 minutes for flavours to blend. Remove from heat, cool and refrigerate in an airtight container for up to 1 week, or freeze for up to 3 months. Serve chunky, or purée in a blender until smooth, if desired. Makes about 3 cups (750 ml).
Grease grill and preheat one side of barbecue to about 475 F (240 C). You want the other side of the barbecue to maintain a grilling temperature of about 350 F (180 C). Brush burgers with oil and make a slight indentation with your thumb in centre of each to prevent patties from rising in centres as they grill. Place on 350 F (180 C) side of grill (not above the direct heat), and close lid. Grill for 4 minutes without opening lid. Gently flip burgers, leaving them on 350 F (180 C) side of barbecue, close lid and continue to cook for 3 more minutes for medium (140 F (60 C) when tested with a meat thermometer), or longer for well done (160 F (71 C) when tested). Melt cheese on top of burgers near the end of cooking, if desired. Remove from heat and let rest for 5 to 10 minutes before serving, while toasting cut sides of buns over grill.
To serve, finish with your choice of toppings and a generous spoonful of Beer-Infused Smoky Tomato Sauce. Serve with a side of baked potato wedges and a glass of cold beer, if desired.
Drink Pairings