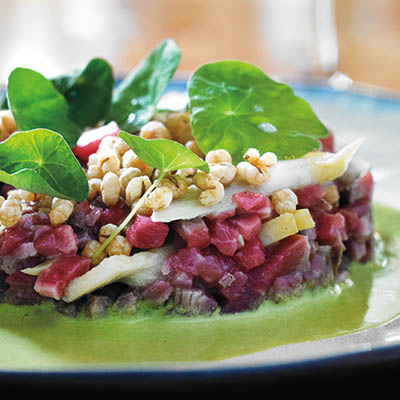 Ingredients
Serves 4
2 Vidalia onions, peeled, coarsely chopped
12 oz (375 g) bison eye of round, trimmed, cleaned of sinew
2 or 3 tbsp (30 or 45 ml) canola oil
salt and freshly ground black pepper, to taste
fresh nasturtium leaves, for garnish
4 cups (1 L) celery juice
¾ cup (175 ml) green onion juice
1¼ cups (300 ml) lemon juice
1 tbsp (15 ml) kosher salt
1 cup (250 ml) pearl barley
salt and freshly ground pepper, to taste
⅔ cup (150 ml) brown butter
1 tbsp (15 ml) lemon juice
1 cup (250 ml) lightly packed fresh tarragon
1 cup (250 ml) lightly packed baby spinach
1 cup (250 ml) buttermilk
1 cup (250 ml) canola oil
¼ cup (60 ml) lemon juice
Instructions
To prepare BISON: In a blender combine chopped onion and water. Purée until smooth. Transfer to a large bowl. Cut bison into 1-in (2.5 cm) thick slices and submerge into onion purée turning pieces a couple of times to coat. Cover tightly and refrigerate overnight.
The next day, rinse slices and pat dry. Heat a large, heavybottomed frying pan over high heat. Should be large enough to hold a couple or more slices in a single layer. Once pan is piping hot, add oil and a couple of bison slices. Quickly sear all sides until bison is dark brown. Remove cooked slices to cooling rack over a baking sheet. Wipe pan clean with a dry cloth, add more canola and repeat searing with remaining bison. Place on cooling rack over baking sheet in refrigerator to cool completely. Once cooled, cut bison roughly into tiny dice, about ⅛-in (0.25 cm). Place on a double layer of paper toweling in a tightly covered container and refrigerate until ready to assemble.
To prepare ARTICHOKE: Trim artichoke leaves down to pale yellow heart. Scoop out fuzzy choke with a spoon and discard. Reserve artichoke heart in 4 cups (1L) water and juice of 1 lemon while assembling cooking sauce.
In a saucepan, combine celery juice, green onion juice, 1¼ cups (300 ml) lemon juice and salt. Bring to a boil. Add artichoke heart and simmer gently for 20 minutes or until a sharp knife is easily inserted into bottom. Remove artichoke from sauce and refrigerate both sauce and artichoke separately.
Once cold, quarter heart and thinly slice. Marinate cooled slices in reserved sauce in refrigerator. Set aside until ready to assemble.
To make PUFFED BARLEY: Combine barley and water in a medium-sized heavy saucepan. Bring to a boil, cover with lid slightly ajar, reduce to simmer and cook barley for 50 minute to 1 hour or until completely soft and cooked. Strain barley through a colander and rinse with cold running water. Once water runs clear, rest barley in colander over bowl to drain.
Preheat oven to 175 to 200 F (80 to 95 C). Spread thoroughly drained barley on a parchment paper-lined baking sheet into a thin layer. Place in low oven to dry and harden, 6 hours. Check occasionally to make sure oven is not too warm.
When barley is dried, heat canola oil in a large heavy stock pot until it reads 375 F (190 C) on a candy thermometer. Reduce heat to medium-low to keep oil temperature steady. Line a baking sheet with paper towel.
Working in tablespoon-sized batches, drop spoonsful of barley into pot to puff, only a few at a time. As soon as they puff, remove with a slotted spoon to baking sheet to drain. Season with salt. Repeat until all barley is fried. Set aside to cool. Puff can be made ahead and stored in a tightly covered container at room temperature for up to a day once cooled.
To make GREEN BÉARNAISE SAUCE: Cook eggs in simmering water for 5 minutes. They should be very soft and barely cooked. Peel then place in a blender with ¼ cup (60 ml) room temperature water. Whirl at low speed to blend. Warm brown butter in a small saucepan to 140 to 160 F (60 to 70 C) and transfer to a cup with a spout.
With blender running, gradually pour in warm brown butter in a slow, steady, very thin stream. Increase speed of blender as liquid thickens. Then add tarragon and spinach and blend until smooth. Add lemon juice and a couple pinches of salt to taste. Reserve at room temperature until ready to assemble.
To make BUTTERMILK VINAIGRETTE: Combine ingredients in a blender and whirl until smooth. Store in a tightly covered container in refrigerator until ready to use. Whisk briskly before using.
To assemble Bison Tartare, combine drained and sliced artichoke with diced bison. Drizzle with half the Buttermilk Vinaigrette. Toss to coat. Season with salt and fresh lemon juice, to taste. Spoon 4 tbsp (60 ml) Green Béarnaise Sauce into centre of 4 chilled serving plates. Press Tartare into a ring or mould and turn out gently into centre of each plate. Garnish with 2 tbsp (30 ml) puffed barley and a generous amount of fresh nasturtium leaves.
Drink Pairings