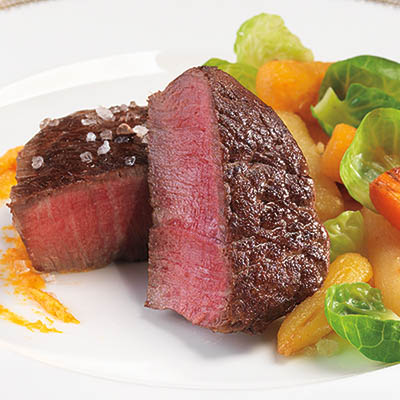 BISON TENDERLOIN WITH SEASONAL VEGETABLES
Ingredients
Serves 4
1 lb (500 ml) yams or sweet potatoes
3 tbsp (45 ml) whipping cream
⅛ tsp (0.5 ml) smoked paprika
GINGER AND MAPLE SYRUP-GLAZED HEIRLOOM CARROTS:
1 lb (500 g) baby heirloom carrots
1 tsp (5 ml) finely minced peeled ginger root
½ tbsp (7 ml) pure maple syrup
6 tbsp (90 ml) butter, softened
1 garlic clove, finely minced
1 tsp (5 ml) each finely chopped fresh tarragon, chives and thyme
2 tsp (10 ml) fine sea salt
1 tsp (5 ml) freshly ground black pepper
4 x 8 oz (1 kg) bison fillets, each 1½-in (4 cm) thick
2 tbsp (30 ml) canola oil
SAUTÉED BRUSSELS SPROUTS LEAVES:
1 lb (500 ml) large Brussels sprouts
¼ cup (60 ml) chopped shallots
1 tsp (5 ml) chopped fresh thyme leaves
salt and freshly ground black pepper
Instructions
To make the YAM PURÉE: Preheat oven to 400 F (200 C). Place rack in middle of oven and line a baking pan with foil. Prick potatoes all over with a fork. Place in prepared baking dish and bake until tender, about 1 hour.
When cool enough to handle, peel skin and remove any eyes. Cut into 2-in (5 cm) pieces, place in a mixing bowl with remaining Purée ingredients. Whip with an electric mixer until smooth. Cover and set aside. Purée can be made ahead and reheated.
Increase oven temperature to 475 F (240 C). Toss carrots with olive oil and sea salt until evenly coated. Place on a baking sheet lined with parchment paper or foil. Roast for 10 minutes.
Heat butter, ginger and maple syrup in a small saucepan. Mix well. Drizzle over carrots on baking sheet and stir to coat. Return carrots to oven and roast another 8 minutes or until golden brown and tender. Remove from oven, cover and set aside to keep warm.
Reduce oven temperature to 350F (180C). In a small bowl make a herbed butter, mixing together butter, garlic, tarragon, chives and thyme. Season with salt and pepper. Cover with plastic wrap and chill until ready to serve.
Mix together sea salt and pepper. Rub mixture on bison fillets to season. Heat oil in a large ovenproof frying pan over high heat. Add fillets and sear, 2 minutes per side. Transfer pan to oven and cook, 5 minutes for rare, 7 minutes for medium- rare. Remove and cover loosely with foil. Allow to rest 8 minutes before serving. Garnish fillets with flaked sea or coarse salt.
While tenderloin is resting, prepare sprouts. Rinse and drain and cut about 1⁄4-in (1 ml) off stem end of each. Then begin peeling leaves. Discard cores. Rinse leaves in cold water and drain well, set aside.
Place a large frying pan over medium-high heat. When hot, add oil, shallots, sprout leaves and thyme. Stir until leaves are bright green and slightly wilted but still crunchy, 3 minutes. Add salt and pepper to taste.
Serve tenderloin with YamPurée, GlazedCarrots, Sautéed Sprouts and a generous dollop of Herbed Butter on tenderloins.
Drink Pairings