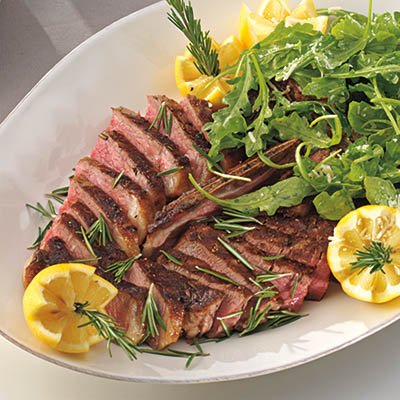 BISTECCA FLORENTINA SERVED WITH ARUGULA SALAD
Ingredients
Serves 6
8 cups (2 L) baby arugula, rinsed, drained and spun dry
1 tbsp (15 ml) balsamic vinegar
3 tbsp (45 ml) extra-virgin olive oil
freshly ground coarse black pepper
4 sprigs fresh rosemary, coarsely chopped
coarse sea salt, to taste
freshly ground coarse black pepper, to taste
2½ lb (1.25 kg) porterhouse steak, about 2-in (5 cm) thick
large Parmesan curls, for garnish
lemon wedges, for garnish
Instructions
To make ARUGULA SALAD: In a small mixing bowl, whisk the extravirgin olive oil and balsamic vinegar. Toss with arugula and season to taste with sea salt and freshly ground black pepper.
To make BISTECCA FLORENTINA: In a small mixing bowl, combine rosemary, olive oil, sea salt and freshly ground black pepper. Brush or rub into steak and allow to marinate at room temperature for 1 hour.
Preheat grill to high.
Place steak onto grill and cook until a dark, golden brown crust forms on the underside (not burnt), 5 to 6 minutes for medium-rare, depending on thickness of steak. Flip steak and continue cooking until golden on the opposite side, about 5 to 6 more minutes.
Or, to cook steak on the stove, preheat oven to 450 F (230 C) and heat a large, cast iron frying pan on the burner. When pan is piping hot, brush a little olive oil over the bottom. Using tongs, place steak in centre of sizzling pan. Cook until the underside of steak is seared golden brown, about 4 minutes. Turn steak over and place pan in oven. Roast about 6 more minutes, for medium-rare.
Remove steak to a carving board and let rest 5 to 10 minutes before carving. While cooling, prepare Arugula Salad.
Slice steak and arrange on a warmed platter and top with dressed salad. Garnish with Parmesan curls and lemon wedges.
Drink Pairings