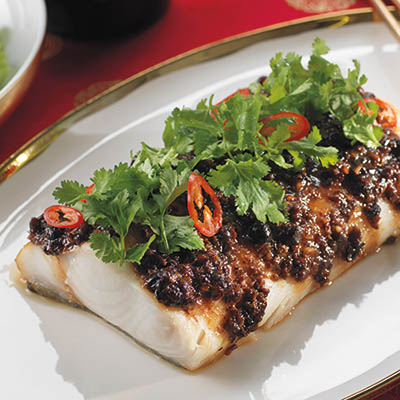 BLACK COD WITH BLACK BEAN SAUCE
Ingredients
Serves 4
2 tbsp (30 ml) cooked black beans, finely chopped
1-in (2.5 cm) piece ginger root, peeled and minced
2 tbsp (30 ml) granulated sugar
2 tbsp (30 ml) Chinese cooking wine
1¼ lb (625 ml) black cod fillets, skin on, scales removed, cut into 4
1 small red chili, thinly sliced (optional)
Instructions
In a bowl, combine black beans, garlic, ginger, sugar, soy sauce and cooking wine. Stir together to make a paste. Set aside.
Place black cod fillets skin-side down on a heatproof platter (or plate) that will fit into a bamboo steamer and spread black bean sauce evenly over top. Place platter in steamer over a wok filled with just enough boiling water that so it does not touch the bottom of steamer. Steam, covered, over medium heat for 15 minutes, or until fish is cooked and flakes easily with a fork.
Remove platter from steamer. Garnish with green onions and sliced chili, if using.
Drink Pairings