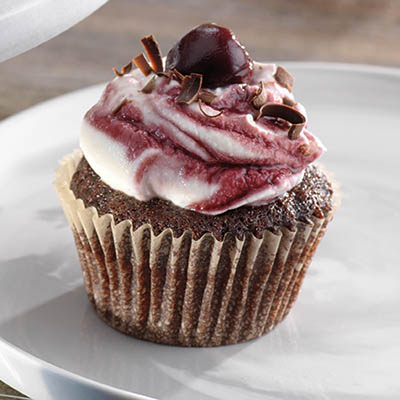 BLACK FOREST CUPCAKES WITH KIRSCH CHERRIES
Ingredients
Serves 24 cupcakes
2 cups (500 ml) granulated sugar
1 cup (250 ml) all-purpose flour
¾ cup (180 ml) cake and pastry flour
¾ cup (180 ml) unsweetened cocoa
1½ tsp (7 ml) baking powder
1½ tsp (7 ml) baking soda
½ cup (125 ml) melted butter, plus extra for greasing pans
1 cup (250 ml) boiling water
1 cup (250 ml) fresh cherries, pitted
¼ cup (60 ml) granulated sugar
1 cup (250 ml) whipping cream
¼ cup (60 ml) granulated sugar
¼ vanilla bean, seeds scraped
Instructions
Preheat oven to 350 F (180 C). Line 2 muffin tins with paper liners or generously grease muffin tins with butter.
To make CUPCAKES: In a large bowl, combine sugar, flours, cocoa, baking powder, baking soda, and salt. Sift together to blend.
In a separate bowl, combine milk, melted butter, eggs and kirsch. Whisk until combined.
Whisk milk mixture into dry ingredients until no lumps remain. Gradually whisk in boiling water until blended.
Ladle equal amounts into prepared muffin tins, each about ¾ full. Bake for 15 to 20 minutes, or until a toothpick inserted in the centre of a cupcake comes out clean. Rotate pans halfway through baking. Once done, remove from oven and thoroughly cool in tins on a rack before removing.
While cupcakes are baking, place cherries in a bowl with sugar and kirsch. (You should have at least 24 cherries.) Stir to evenly blend. Marinate at room temperature for 1 hour or refrigerate overnight.
Drain juice from cherries into a small, heavy-bottomed saucepan, reserving cherries. Gently boil juice over medium heat, reducing it to a syrupy consistency, about five to ten minutes. Remove from the heat and set aside to cool.
To make CHANTILLY CREAM: In an electric stand mixer fitted with a wire whisk, beat whipping cream in a chilled bowl until soft peaks begin to form. Gradually beat in sugar and vanilla seeds until medium peaks form.
Drizzle cooled cherry syrup over whipped cream and gently stir together, creating swirls of cherry syrup in cream.
Pipe or dollop cherry cream onto each cupcake and garnish with a reserved, marinated cherry.
Drink Pairings