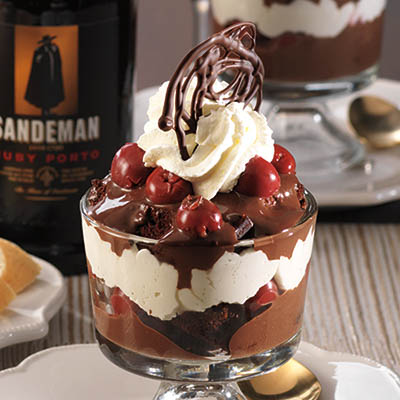 Ingredients
Serves 8 to 10
2 cups (500 ml) all-purpose flour
½ cup (125 ml) Dutch-processed cocoa
1½ tsp (7 ml) baking soda
½ tsp (2 ml) baking powder
1 cup (250 ml) buttermilk
½ cup (125 ml) canola oil
2 tsp (10 ml) vanilla extract
1 cup (250 ml) hot, strong coffee
TRIPLE CHOCOLATE CUSTARD:
¾ cup (175 ml) Dutch-processed cocoa powder
¾ cup (175 ml) cornstarch
3 cups (750 ml) whole milk
3 cups (750 ml) half and half
4 oz (60 ml) bittersweet chocolate, finely chopped
4 oz (60 ml) milk chocolate, finely chopped
1 tbsp (15 ml) vanilla extract
3 cups (750) whipping cream
¼ cup (60 ml) icing sugar
2 tsp (10 ml) vanilla extract
2 x 13 oz (375 g) jars cherries in kirsch or similar, drained, reserving liquid
Instructions
Preheat oven to 350 F (180 C). Grease and flour a 13 x 9-in (3.5 L) baking pan.
In a large bowl, sift flour, sugar, cocoa, baking soda, salt and baking powder. Add buttermilk, oil and vanilla. Stir until just combined. Mix in coffee and stir until well combined. Pour into prepared pan and bake until a skewer comes out clean, about 25 to 30 minutes or until the top springs back when pressed lightly.
Cool cake completely. Invert cake onto cutting board and cut into 1-in (2.5 cm) cubes. Cover and set aside until ready to assemble.
To make TRIPLE CHOCOLATE CUSTARD: In a mixing bowl, stir together sugar, cocoa, cornstarch and sugar until well blended. Slowly whisk in milk until smooth then slowly whisk in the half and half.
Transfer to a heavy-bottomed saucepan and heat over medium heat, whisking constantly until it comes to a boil. Boil gently for 2 minutes, stirring to prevent burning the bottom. Remove from heat and gradually mix in bittersweet chocolate and vanilla.
Transfer the saucepan to an ice bath to cool, stirring frequently, about 15 minutes. Stir in the milk chocolate. Refrigerate until cold.
To make WHIPPED CREAM: Whip cream with icing sugar until soft peaks form. Add vanilla extract and beat until stiff.
Place half the diced chocolate cake in bottom of a trifle dish. Drizzle with ¼ cup (60 ml) reserved cherry juice. Top with half of the custard, then half of the drained cherries and half of the whipped cream. Repeat layering with remaining cake.
Cover with plastic wrap and refrigerate for at last 2 hours or up to a day before serving. These can also be made in small serving dishes, dividing ingredients and layering in order. Garnish with chocolate and a few reserved cherries.
Drink Pairings