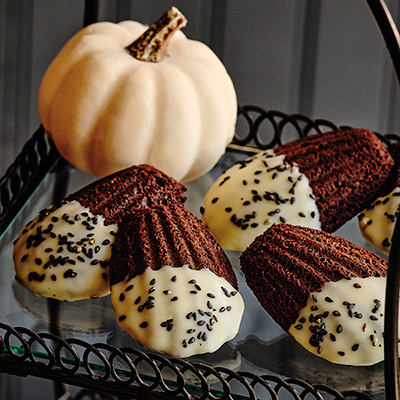 Black & White Bourbon Madeleines
Ingredients
Serves 32
4 oz (125 g) chopped semi-sweet chocolate
½ cup + 1 tbsp (140 ml) unsalted butter, room temperature, divided, plus extra for greasing
¾ cup (175 ml) granulated sugar
1 tsp (5 ml) vanilla extract
1 cup (250 ml) all-purpose flour
2 tbsp (30 ml) Dutch processed black cocoa powder
½ tsp (2.5 ml) baking powder
10 oz (300 g) white chocolate, finely chopped
½ cup (125 ml) whipping cream
1 to 2 tbsp (15 to 30 ml) bourbon (depending on flavour preference)
2 tbsp (30 ml) black sesame seeds
Instructions
Set up a double boiler or a heatproof bowl that fits snugly over a saucepan of boiling water and melt semi-sweet chocolate. Set aside to cool to room temperature.
Meanwhile, in a stand mixer fitted with a paddle attachment, beat together ½ cup (125 ml) butter and sugar at medium speed until light and fluffy, about 3 minutes. Add eggs one at a time, incorporating each fully before adding the next. Stir in vanilla and salt until just incorporated.
In a separate bowl, sift together flour, cocoa powder and baking powder. With a rubber spatula, fold flour mixture into butter mixture until just incorporated. Add reserved melted chocolate and fold into batter until just incorporated, with no white streaks remaining. Let batter rest at room temperature for 1 hour.
Meanwhile, preheat oven to 350 F (180 C). Prepare 2 madeleine pans by liberally brushing wells with extra softened butter or cooking spray and placing in freezer for at least 15 minutes.
Remove pans from freezer and spoon 1 tbsp (15 ml) batter into each mould. Return pans to freezer and let batter chill for 15 minutes. Transfer to oven and bake until madeleines have risen and set, about 10 to 13 minutes. While warm, turn baked madeleines out onto a wire rack and let cool to room temperature. Wipe out pans with a clean dry cloth and repeat steps 4 and 5 until all batter has been used up.
Meanwhile, make ganache coating. In a medium heatproof bowl, place white chocolate. Warm cream in a small saucepan until just boiling. Pour cream over chocolate and let sit for 30 seconds. Using a whisk or spatula, gently stir chocolate and cream together. Once smooth, add remaining 1 tbsp (15 ml) butter and bourbon, stirring until fully incorporated. Set aside at room temperature, stirring occasionally, until it has thickened but still flows, about 30 minutes.
Drizzle half of each shell side of madeleine with ganache and set back on wire rack, shell-side up. Sprinkle ganache with sesame seeds and allow to set, about 1 hour at room temperature, or place in refrigerator for 10 minutes. Transfer to a serving platter and enjoy. Once coated with ganache, madeleines are best eaten day they are made. Uncoated madeleines may be stored in an airtight container in refrigerator for up to 4 days, or frozen for 1 month. Allow to come to room temperature before decorating.
Drink Pairings