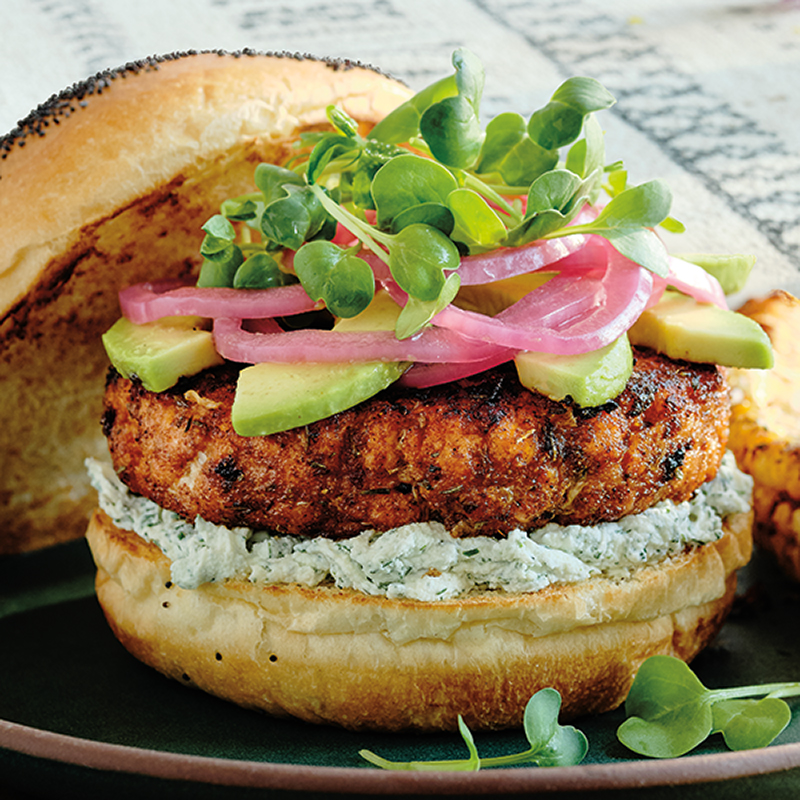 Ingredients
Serves 6
½ cup (125 ml) red wine vinegar
2 tbsp (30 ml) granulated sugar
½ tsp (2.5 ml) kosher salt
1 small red onion, sliced into ⅛-in (0.25 cm) rings
8 oz (250 g) cream cheese, room temperature
1 tbsp (15 ml) lemon juice
2 tbsp (30 ml) finely chopped fresh dill
2 tbsp (30 ml) finely chopped fresh chives
2 tbsp (30 ml) finely chopped fresh flat leaf parsley leaves
2 tbsp (30 ml) finely chopped fresh basil leaves
kosher salt and freshly ground black pepper, to taste
3 tbsp (45 ml) dark brown sugar
1½ tbsp (22 ml) sweet paprika
¾ tsp (4 ml) cayenne pepper
¾ tsp (4 ml) garlic powder
½ tsp (2.5 ml) dried thyme
½ tsp (2.5 ml) dried oregano
kosher salt and freshly ground black papper, to taste
1½ lbs (750 g) wild salmon, skin removed, cut into large chunks
½ cup + 2 tbsp (155 ml) panko bread crumbs
1½ tbsp (22 ml) grapeseed oil, plus extra for cooking
6 brioche burger buns, toasted
2 avocados, peeled and sliced, for garnish
1½ cups (375 ml) microgreens, for garnish
Instructions
To make Pickled Red Onions, in a small saucepan, combine vinegar, granulated sugar and salt. Bring to a simmer over medium heat and stir in onion rings. Return to a simmer and cook for 30 seconds. Transfer to a bowl and let cool to room temperature. Rings will turn translucent and shiny as they cool. Cover and store in an airtight container in refrigerator for up to 3 weeks.
Meanwhile, to make Herbed Cheese Spread, in a medium bowl, stir together cream cheese, lemon juice, dill, chives, parsley, basil and salt and pepper to taste. Set aside. This can be made up to 2 days in advance and stored in an airtight container in refrigerator. Bring to room temperature before using.
To make Salmon Burgers, start by making seasoning mix. In a small bowl, mix together brown sugar, paprika, cayenne, garlic powder, thyme, oregano and a good pinch of both salt and black pepper. Set aside.
In bowl of a food processor fitted with steel S-blade attachment, pulse salmon until finely chopped. Alternatively, chop salmon very finely with a knife. Transfer to a large bowl and mix in panko crumbs and oil until just combined. Divide mixture into 6 equal portions and shape into burgers about 5-in (12 cm) in diameter. Season burgers generously all over on both sides with seasoning mix and set aside.
Add a couple tablespoons of grapeseed oil to a large cast iron skillet or frying pan and warm over medium heat. Working in batches, cook burgers, flipping once, until lightly browned and cooked through, about 3 to 5 minutes per side. Be careful when flipping burgers as they are delicate.
To assemble, spread bottom half of toasted bun with Herbed Cheese Spread. Top with a burger, Pickled Red Onions, avocado slices and microgreens. Top with other half of bun and serve immediately.
Drink Pairings