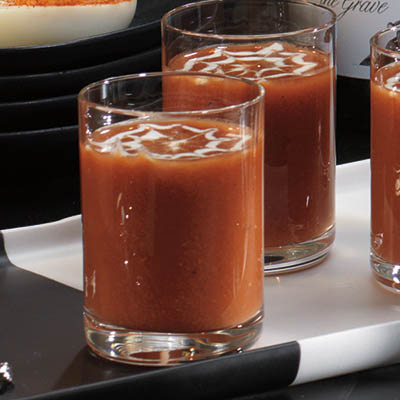 Ingredients
Serves 20 soup shots
1 × 28 oz (796 g) canned chopped tomatoes, unsalted
2 green onions, trimmed and chopped
½ cup (125 ml) reduced salt chicken stock
2 tbsp (30 ml) Worcestershire sauce
1 tbsp (15 ml) prepared horseradish
1 tbsp (15 ml) lemon juice
salt and freshly ground pepper, to taste
½ cup (125 ml) sour cream, for serving
2 tbsp (30 ml) 2% milk, plus extra as needed, for serving
Instructions
In a blender, combine tomatoes with juice, green onions, celery, stock, Worcestershire, horseradish, vodka and lemon juice until smooth. If soup is too thick, thin with additional stock or water 1 tbsp (15 ml) at a time. Season soup to taste with salt and pepper. Transfer to a pitcher and refrigerate until cold.
Just before serving, in a small bowl, whisk together sour cream and milk. If mixture is not easily pourable, add an additional 1 to 2 tsp (5 to 10 ml) of milk. Transfer to a squeeze bottle or a resealable plastic bag with a small hole cut from one corner.
When ready to serve, pour Bloody Mary soup into small serving glasses. Squeeze a small coil of sour cream mixture onto soup. With a toothpick or paring knife, drag lines from centre out to create a spider web design. Enjoy soup chilled.
Drink Pairings