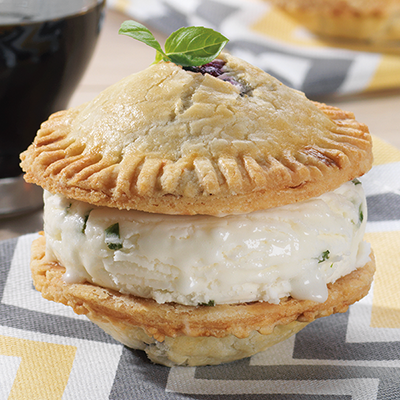 BLUEBERRY-BASIL HAND PIE ICE CREAM SANDWICHES
Ingredients
Serves 6
1 cup (250 ml) whipping cream
1 x 14 oz (397 g) can sweetened condensed milk
2 cups (500 ml) mascarpone cheese
2 tbsp (30 ml) vanilla extract
¼ cup (60 ml) basil leaves, finely chopped
¾ cup + 1 tsp (175 ml + 5 ml) granulated sugar, divided
3 tbsp (45 ml) cornstarch
2½ cups (625 ml) fresh blueberries, divided
¼ cup (60 ml) basil leaves, roughly chopped
1½ cups (375 ml) all-purpose flour
⅛ tsp (0.5 ml) baking powder
4½ tbsp (67.5 ml) unsalted butter, chilled
5½ tbsp (82.5 ml) vegetable shortening, chilled
2 tsp (10 ml) apple cider vinegar
½ cup (125 ml) cold water, plus extra
Instructions
In bowl of a stand mixer fitted with a whisk attachment, place cream. Whisk just until stiff peaks form. Transfer to a bowl and replace mixing bowl back on stand mixer. Into bowl of stand mixer, add sweetened condensed milk, mascarpone cheese, vanilla extract and sea salt. Whisk until well combined and smooth. Remove bowl from mixer and stir in finely chopped basil leaves with a rubber spatula. Fold in whipped cream into mascarpone mixture. Pour ice cream base into a freezer-safe container and freeze for 4 to 6 hours.
In a medium saucepan, stir together ¾ cup (175 ml) sugar and cornstarch until combined. Stir in red wine and 2 cups (500 ml) blueberries. Place saucepan over medium heat and, stirring often, bring mixture to a simmer until sauce becomes thick and glossy and blueberries have burst, about 10 to 15 minutes. Remove from heat and stir in remaining ½ cup (125 ml) blueberries, lemon juice, pepper and roughly chopped basil. Transfer mixture to a bowl and let cool at room temperature, cover in plastic wrap and refrigerate until ready to use. Filling can be made up to 3 days ahead.
In a food processor, add flour, salt, baking powder and remaining 1 tsp (5 ml) sugar. Pulse a few times until mixture is well blended. Add butter and vegetable shortening and pulse 5 times.
In a small bowl, whisk together 1 egg yolk, apple cider vinegar and water. Add ice cubes and let sit for 2 minutes. Add 3 tbsp (45 ml) of egg yolk mixture to flour mixture in food processor and pulse a few times. Dough should come together but not be too wet. If dough is too dry, add more egg yolk mixture 1 tsp (5 ml) at a time until desired consistency is achieved. Turn dough out onto a clean work surface, bring together in a clump, divide into 2 pieces, press each piece into a dish and wrap each piece in plastic wrap before refrigerating for 1 hour.
Working with 1 disk of dough at a time, roll dough between 2 large pieces of wax paper until about ⅛-in (2.5 cm) thick. Cut out twelve 2½-in (6 cm) circles and place on 2 baking trays lined with parchment paper. Repeat with second disk of dough except cut out twelve 3-in (8 cm) circles.
Place 1½ to 2 tbsp (21 to 30 ml) of cooled filling onto middle of each smaller circle. Lightly brush outside filled circles with water before placing a larger circle on top of filling and sealing edges by pressing tines of a fork around each pie. Refrigerate pies while oven preheats to 350 F (180 C).
In a small bowl, whisk together remaining egg yolk and 1 tbsp (15 ml) water. Brush tops of each pie with egg wash. With a sharp paring knife, cut a small vent in the top of each pie. Bake pies until crust is golden brown and blueberry filling is bubbling out of vent, about 25 to 35 minutes. Transfer pies to a wire rack to cool completely
To assemble, invert 1 blueberry hand pie and top with a scoop of ice cream. Top with another hand pie and serve immediately.
Drink Pairings