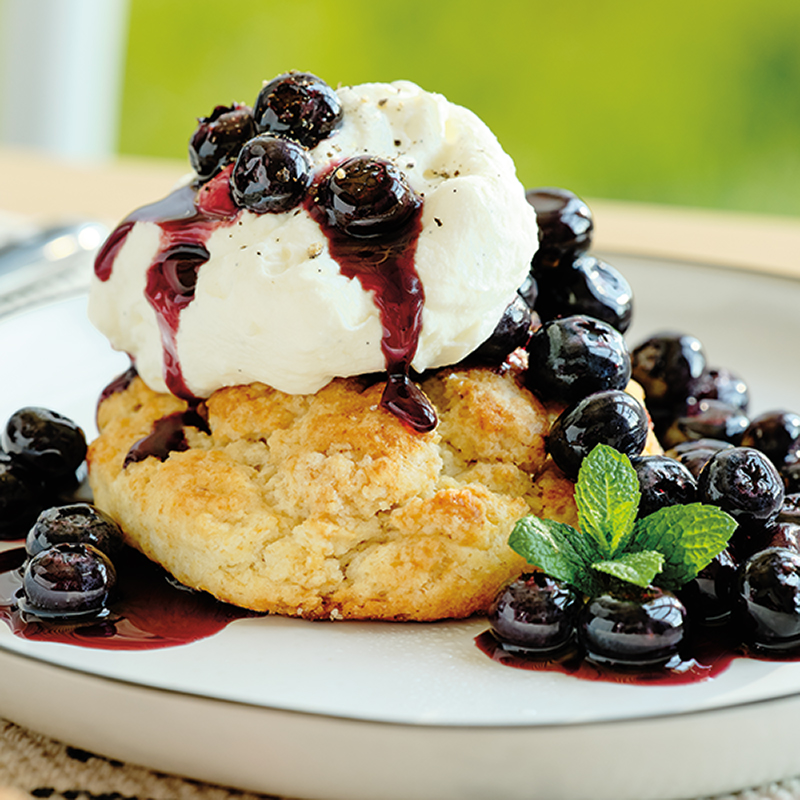 Blueberry, Shiraz & Black Pepper Shortcakes
Ingredients
Serves 6
¼ cup (60 ml) + 2 tbsp (30 ml) granulated sugar, divided
½ vanilla bean, seeds scraped out, pod and seeds reserved, divided
¼ tsp (1 ml) freshly ground black pepper
2 cups (500 ml) fresh blueberries, rinsed and patted dry
2 cups (500 ml) all-purpose flour
1 tbsp (15 ml) baking powder
½ tsp (2.5 ml) fine sea salt
1 tsp (5 ml) finely grated lemon zest
½ cup (125 ml) cold unsalted butter, cut into cubes
¾ cups (175 ml) 10% cream, plus extra for brushing
4 tsp (20 ml) turbinado sugar
8 oz (250 g) mascarpone cheese, softened but still slightly chilled
1¼ cups (310 ml) 35% whipping cream
½ cup (125 ml) icing sugar
Instructions
Start by making a blueberry, Shiraz and black pepper syrup. In a medium saucepan over medium-high heat, stir together wine, ¼ cup (60 ml) granulated sugar and vanilla pod only. Bring to a boil and, stirring often, reduce mixture to ¾ cup (175 ml), about 15 to 20 minutes. Remove from heat and stir in black pepper. Set aside to cool to room temperature. Remove and discard vanilla pod and stir in blueberries. This can be made up to 2 days in advance an6d stored in an airtight container in refrigerator.
Preheat oven to 425 F (220 C). Line a baking sheet with parchment paper and set aside.
To make shortcakes, in a food processor fitted with steel S-blade attachment, pulse together flour, remaining 2 tbsp (30 ml) granulated sugar, baking powder, salt and lemon zest. Add butter and pulse until a sandy texture is achieved. Add 10% cream and pulse until a moist, soft dough just comes together. Turn dough out onto a lightly floured work surface and divide into 6 roughly equal pieces. Place on prepared baking sheet and gently pat each one into a circle about ¾-in (2 cm) thick. Brush with a little extra 10% cream and sprinkle with turbinado sugar. Bake until lightly golden, about 12 to 14 minutes. Transfer shortcakes to a wire rack to cool.
Meanwhile, make mascarpone cream. In a medium mixing bowl, beat mascarpone with a rubber spatula until smooth. In a large mixing bowl, combine 35% cream, icing sugar and vanilla seeds. With a handheld mixer, whip until soft peaks form. Add cream mixture to mascarpone and fold together with a rubber spatula until fully incorporated.
To serve, divide shortcakes between serving dishes, splitting shortcakes in half crosswise, if desired. Top with blueberry, Shiraz and black pepper syrup and a dollop of mascarpone cream and serve immediately.
Drink Pairings