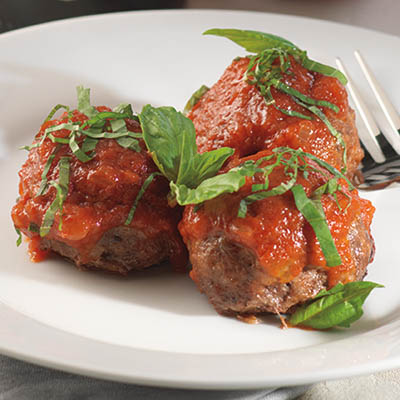 BOCCONCINI-STUFFED MEATBALLS IN TOMATO SAUCE
Ingredients
Serves 4 to 6
½ small yellow onion, chopped
28 oz (796 ml) can puréed tomatoes
1 pinch crushed red pepper flakes
BOCCONCINI-STUFFED MEATBALLS:
2 slices white bread, crusts removed
¼ small yellow onion, minced
1 tsp (5 ml) dried oregano
2 tsp (10 ml) tomato paste
2 tsp (10 ml) kosher salt
1 tsp (5 ml) ground black pepper
12 x 1-in (2.5 cm) bocconcini balls
Instructions
To make TOMATO SAUCE: In a large, heavy-bottomed saucepan, heat oil. Add onion and sauté over medium heat until soft and translucent. Add puréed tomatoes, red pepper flakes and salt, simmer, covered, for 10 minutes. Remove from heat and cover to keep warm while preparing meatballs.
To make BOCCONCINI-STUFFED MEATBALLS: Preheat oven to 400 F (200 C).
In a large bowl, combine bread and milk. Soak for 5 minutes, then mash into a paste using a fork. Add meat, egg, garlic, onion, oregano, tomato paste, salt and pepper and mix until evenly blended.
Divide meat mixture into 12 equal portions and roll each into a meatball. Press a bocconcini ball into the centre of each meatball, sealing it inside the ground meat. Place meatballs on a parchment-lined baking tray. Bake in centre of oven for 10 minutes. Using a slotted spoon, transfer meatballs to the saucepan with Tomato Sauce.
Cover and simmer for 10 minutes or until dish is piping hot and meatballs are cooked through. Garnish with basil and serve.
Drink Pairings