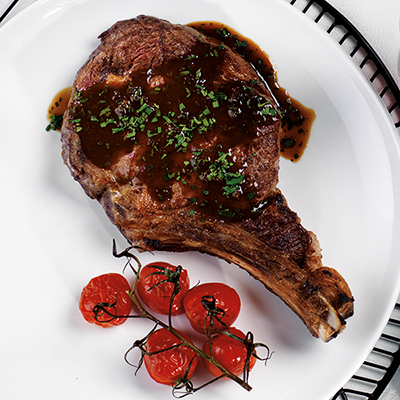 BONE-IN RIB-EYE WITH PEPPERCORN SAUCE
Ingredients
Serves 2
2 tbsp (30 ml) grapeseed oil, divided
2 bone-in rib-eye steaks (depending on size, 1 steak may be big enough for 2 servings), at room temperature
Peppercorn Sauce, to serve, recipe follows
1 shallot, finely chopped
3 tbsp (45 ml) butter, chilled, divided
½ cup (125 ml) beef stock
1 tbsp (15 ml) green peppercorns, roughly chopped
salt and pepper, to taste
Instructions
Preheat grill to high and rub grill with half the oil.
Pat steaks dry then coat with remaining oil and season with salt and pepper. Reduce grill heat to medium-high and grill steaks for 4 to 5 minutes per side for medium-rare doneness. Continue grilling to desired doneness. Let steaks rest for 5 minutes before serving with Peppercorn Sauce and desired sides.
To make PEPPERCORN SAUCE: In a small pan over medium heat, sweat shallots in half the butter. Add cognac and cook until liquid has reduced completely. Add beef stock and thyme and cook until stock has reduced by half.
Remove thyme and add remaining butter, stirring vigorously until butter has emulsified into sauce. Add peppercorns and season to taste. Serve warm.
Drink Pairings