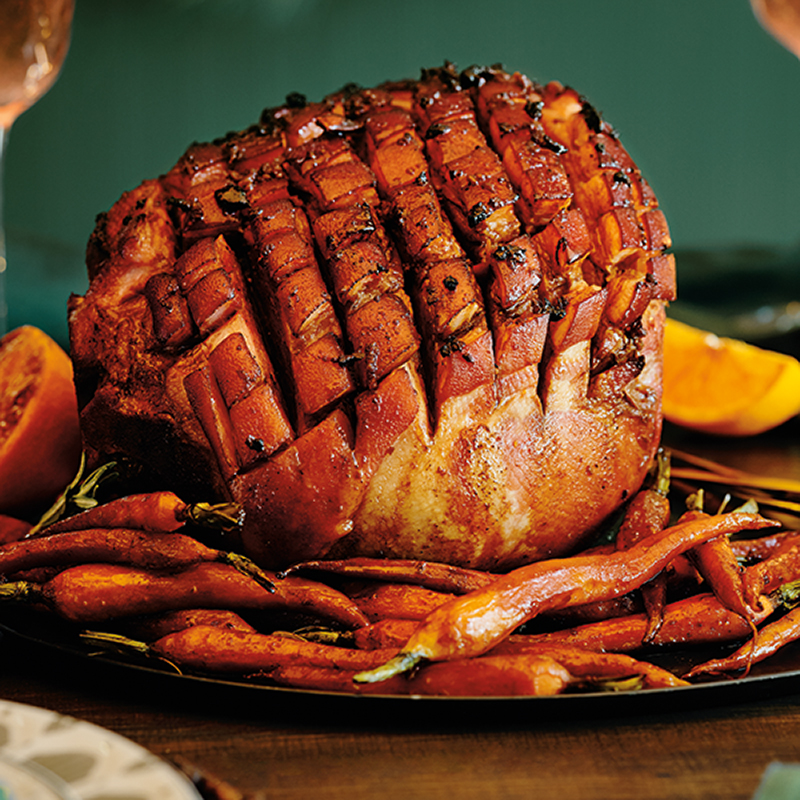 BOURBON-GLAZED HAM SERVED WITH ROASTED CARROTS
Looking for an alternative to turkey? Here is a festive option for the star of the feast.
Ingredients
Serves 8
½ cup (125 ml) maple syrup
⅓ cup (75 ml) brown sugar
2 tbsp (30 ml) Dijon mustard
2 oranges, zest and juice
1 x 1-in (2.5 cm) coin of ginger
6 lbs (2.72 kg) bone-in cooked ham
2 tbsp (30 ml) unsalted butter
1 cup (250 ml) water, or more as needed
Instructions
In a medium saucepan over medium heat, place bourbon, maple syrup, soy sauce, brown sugar, Dijon, orange juice and zest. Stir to combine. Add anise, ginger and garlic. Bring to a boil then reduce to a simmer. Cook for 10 minutes or until it has reduced by one third and is thick enough to coat the back of a spoon. Remove from heat and set aside.
Place ham on a cutting board skin-side up. Using a sharp knife, score top of ham diagonally with lines about 1-in (2.5 cm) apart. The scores should only be ¼-in (0.5 cm) deep.
Preheat oven to 375 F (190 C) and place ham in a large baking dish. Pour half of glaze over ham. Add 1 cup (250 ml) water to bottom of pan and bake for 30 minutes. Keep checking on ham and add a little water when pan gets dry, to avoid burning glaze. Add carrots to bottom of pan, then remaining glaze and butter. Cook for another 30 minutes or until carrots are tender and ham is warmed through with dark, crispy skin.
To serve, remove ham and carrots from pan and transfer to a platter. Sieve remaining pan jus into a gravy boat and serve alongside ham.
Drink Pairings