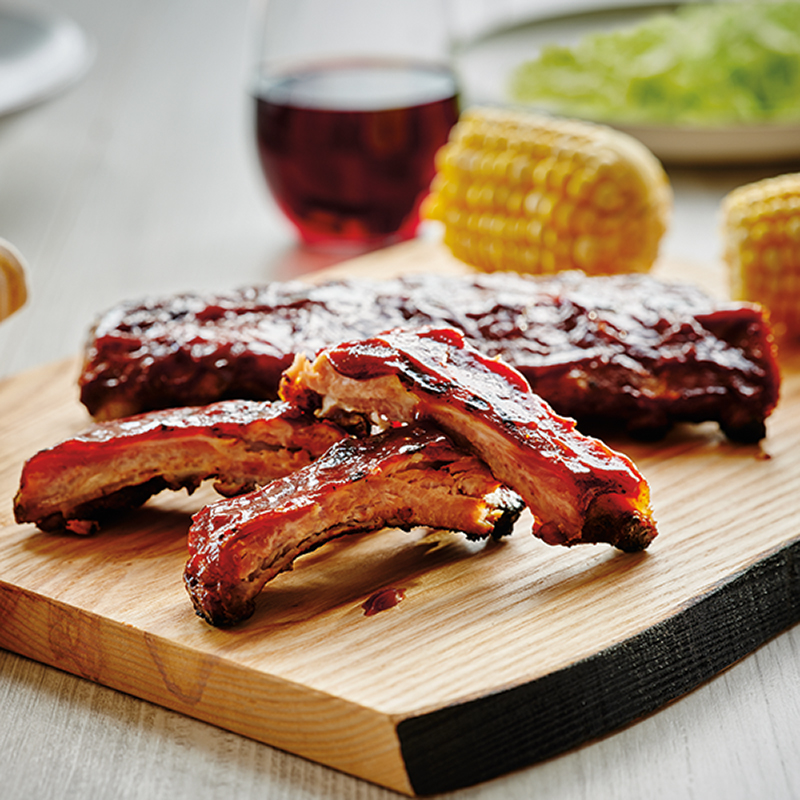 Bourbon Molasses Pork Ribs
Ingredients
Serves 4
1 tbsp (15 ml) barbecue dry rub mix
2 tbsp (30 ml) brown sugar, divided
2 tsp (10 ml) kosher salt
¼ tsp (1 ml) freshly ground black pepper
2 racks baby back ribs, silver skin removed
1 cup (250 ml) barbecue sauce
2 tbsp (30 ml) apple cider vinegar
Instructions
Preheat oven to 300 F (150 C). 
In a small bowl, mix barbecue dry rub, 1 tbsp (15 ml) brown sugar, salt, black pepper and cayenne. Sprinkle rub evenly over both sides of ribs then wrap well in heavy duty foil, place on a baking tray and bake in oven until fork-tender, 3½ to 4 hours. This can be done up to 2 days ahead of serving. (If serving later, let cool completely and store in refrigerator.)
Meanwhile, place remaining ingredients (including remaining 1 tbsp (15 ml) sugar) in a small saucepan and cook over medium heat until reduced by half, about 10 to 15 minutes. Set aside. (Or refrigerate if not using within one hour.)
Preheat barbecue to medium, then cook ribs, turning constantly and brushing with barbecue sauce, until hot and glazed well with sauce. Serve with your favourite sides.
Drink Pairings