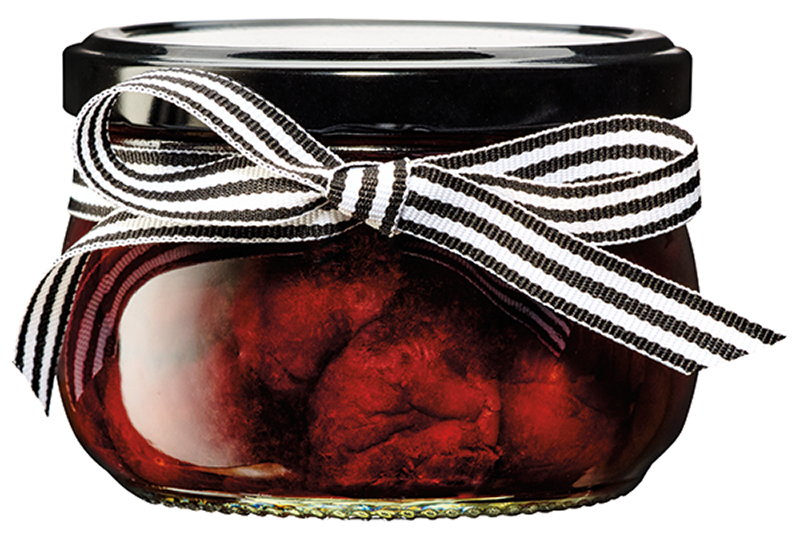 BOURBON-SOAKED CHERRIES
This delicious homemade preserve is the perfect accompaniment to your holiday entertaining spread. Wrap up a jar or two in a curated gift box of edible treats and you are sure to be the gifting superstar this year!
Ingredients
Serves eight 1-cup (250 ml) jars
2 lbs (1 kg) frozen cherries, defrosted and well-drained
1½ cups (375 ml) Luxardo Cherry Liqueur
1 tsp (5 ml) vanilla extract
½ cup (125 ml) granulated sugar
2 cups (500 ml) Buffalo Trace Kentucky Bourbon
Instructions
Line a large tray with paper towels. Spread out cherries in a single layer and allow to drain for 30 minutes to remove excess moisture, then pat cherries dry. Divide cherries between eight 1-cup (250 ml) sterilized jars. Set aside.
In a medium saucepan, combine water, cherry liqueur, vanilla extract, cinnamon stick, sugar and bourbon. Over medium-high heat, bring mixture to a simmer, stirring occasionally. Reduce heat to medium-low and continue to simmer for another 10 minutes. Remove cinnamon stick.
Carefully pour hot bourbon mixture evenly over cherries. Wipe rims of jars clean and seal. Cool for 1 hour, then refrigerate cherries for at least 3 days before using or store in refrigerator for up to 1 month. Serve in your favourite Manhattan or Old-Fashioned cocktail.
Drink Pairings