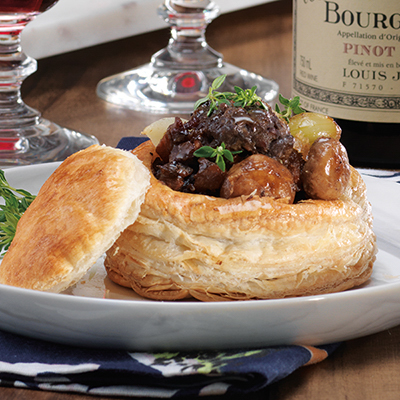 Ingredients
Serves 6
1½ lb (750 g) puff pastry, thawed
2 lbs (1 kg) chuck roast beef, cut into 1½-in (3.75 cm) cubes
2 cups (500 ml) chopped bacon
6 tbsp (90 ml) oil, divided
1 cup (250 ml) chopped onions
1 cup (250 ml) cubed carrots, approximately ¾ x ¾-in (2 x 2 cm)
1 cup (250 ml) chopped celery
1 bottle (750 ml) red wine, such as pinot noir, divided
1 bouquet garni (3 sprigs thyme, 3 sprigs parsley and 2 bay leaves tied together with kitchen string)
4 tbsp (60 ml) butter, divided
1½ cups (375 ml) pearl onions, peeled
2 cups (500 ml) button mushrooms
2 tbsp (30 ml) balsamic vinegar
thyme leaves, for garnish
Instructions
Unroll puff pastry onto clean lightly-floured surface. Using a 3-in (8 cm) round cookie cutter, cut 12 discs and place on parchment-lined baking sheet. Using a 2-in (5 cm) round cookie cutter, cut into centre of 6 discs. In total you should have 6 x 3-in (8 cm) discs, 6 x 3-in (8 cm) rings and 6 x 2-in (5 cm) discs. Refrigerate for 30 minutes to chill.
Preheat oven to 400 F (200 C) and adjust rack to centre position.
Prepare egg wash by lightly whisking egg with water. Remove chilled pastry from refrigerator. Work quickly to make sure pastry is still cold and stiff while assembling. Lightly brush surface of 6 large 3-in (8 cm) discs with egg wash. Stack 6 rings over discs, do not press pastry together. Freeze pastry shells for about 15 minutes. Remove from freezer and lightly brush surface of smaller 2-in (5 cm) discs and pastry shells with egg wash. Bake for 20 minutes or until pastry shells have risen and are golden brown in colour. Turn off oven and leave door slightly and safely ajar to let pastry cool in oven for about 1 hour. Once completely cooled, you can store in airtight container for up to 1 day.
Preheat oven to 325 F (170 C) and adjust rack to lower third position.
Season beef with salt and pepper, set aside. In a large Dutch oven, fry bacon until edges start to brown. Using slotted spoon, remove fried bacon and set aside. In same Dutch oven over high heat, working in batches, sear sides of cubed beef, 1 minute on each side until evenly browned. Adjust heat as needed to ensure bottom of pan does not burn. Remove beef and set aside in a large bowl.
Reduce heat to medium, add 2 tbsp (30 ml) oil, onions, garlic, carrots and celery and sauté for about 5 minutes. Cover with lid for first minute to help vegetables sweat. Then remove lid for remaining 4 minutes. If bottom of pan starts to burn, lower heat and continue sautéing until vegetables darken in colour and no liquid remains. Add ƒ cup (75 ml) wine to vegetables and scrape up any browned bits from bottom of pan. Add reserved beef to Dutch oven along with any accumulated juices, bacon, remaining wine and bouquet garni. Cover and transfer to preheated oven for 2 hours.
In a large frying pan over medium-high heat, melt 2 tbsp (30 ml) butter with 2 tbsp (30 ml) oil. Sauté pearl onions until they begin to turn golden brown, set aside in a bowl. In same pan, add remaining 2 tbsp (30 ml) butter and 2 tbsp (30 ml) oil and sauté button mushrooms until tender. Remove and add to pearl onions.
Remove beef from oven after 2 hours and add pearl onions and mushrooms. There should be very little braising liquid left, if not, cook uncovered over medium heat until most liquid is reduced to about 1 cup (250 ml). Season to taste. Add balsamic vinegar, stir and cover to let beef rest for at least 15 minutes.
To serve, spoon braised beef into pastry shell and garnish with thyme leaves. Place 2-in (5 cm) baked pasty discs as a lid and serve.
Drink Pairings