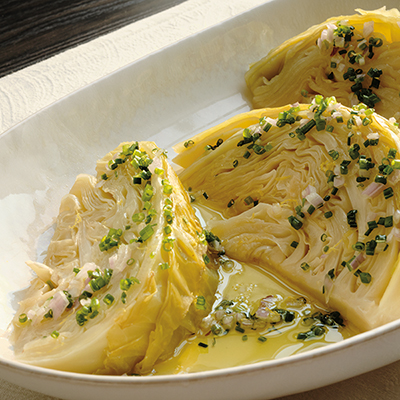 Braised Cabbage with Herbed Vinaigrette
Ingredients
Serves 8-10
2 to 3 small green cabbages, quartered
1 cup (250 ml) chicken stock
salt and pepper, to taste
¼ cup (60 ml) extra-virgin olive oil
1 shallot, finely chopped
1 sprig thyme, leaves picked and roughly chopped
1 pinch fennel seeds, crushed with your fingers
2 tbsp (30 ml) white wine vinegar
2 tsp (10 ml) Dijon mustard
1 tsp (5 ml) chopped fresh parsley leaves
2 tbsp (30 ml) finely chopped chives
Instructions
Preheat oven to 375 F (190 C). Place cabbage, chicken stock, butter, salt and pepper in a roasting dish. Cover with foil and bake for about 30 minutes, or until cabbage is fork-tender. Don't worry if it gets a bit golden around edges.
To make the herbed vinaigrette, heat olive oil in a small frying pan over medium heat. Add shallot, thyme and fennel and sweat until shallots have softened, about 5 to 8 minutes. Remove from heat and add remaining ingredients, whisking until combined.
Place cabbage on a serving platter and drizzle with vinaigrette.
Drink Pairings