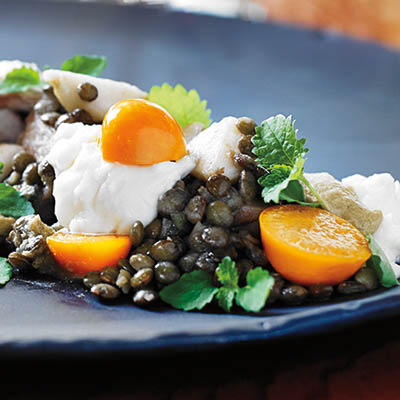 BRAISED LAMB SHOULDER WITH PUY LENTILS
Ingredients
Serves 4
4 tbsp (60 ml) cumin seeds
3 tbsp (45 ml) black peppercorns
2 tbsp (30 ml) whole allspice
2 tbsp (30 ml) coriander seeds
1 tbsp (15 ml) whole cloves
2 cinnamon sticks, broken
2 tbsp (30 ml) ground ginger
1¾ cups (425 ml) kosher salt
2 cups (500 g) dried Puy lentils
½ small Vidalia onion, peeled
5 lb (2.5 kg) bone-in lamb shoulder
2 to 4 tbsp (30 to 60 ml) canola oil
2 large Vidalia onions, peeled and quartered
2 large carrots, peeled, cut crosswise
4 celery stalks, cut crosswise
1 small bunch fresh thyme
1 tbsp (15 ml) black peppercorns
MOROCCAN SPICED LENTIL PURÉE:
2 tbsp (30 ml) canola oil
¾ cup (175 ml) finely diced cooking onion
½ cup (125 ml) finely diced celery
2 tsp (10 ml) finely minced garlic
3 tbsp (45 ml) Moroccan Spice Mix
2 cups (500 ml) Puy lentils
2 cups (500 ml) whipping cream
¾ cup (175 ml) cold butter, diced
12 baby turnips, trimmed, scrubbed clean
¼ cup (60 ml) diced cold butter (optional)
1 cup (250 g) Burrata cheese, divided
16 cape gooseberries, husks removed, halved
Instructions
To make MOROCCAN SPICE MIX: Combine whole spices in a small, dry, heavybottomed frying pan. Toast whole spices and cinnamon sticks over medium heat until fragrant, 2 minutes. Shake pan several times to prevent burning. Transfer to a spice grinder and grind to a fine powder. Stir in cayenne and ground ginger to blend. Place in a small container with a tight-fitting lid. Cool and tightly seal until ready to use.
To firm Puy lentil skins, combine water and salt in a large container with a fitted lid. Stir to dissolve salt. Stir in lentils and cover tightly. Refrigerate overnight.
The following day, drain lentils through a strainer and place in a large saucepan along with enough water to cover by 4-in (10 cm) and some generous pinches of salt. Add ½ Vidalia onion, ½ carrot and 1 celery stalk. Bring to a boil, reduce heat, cover with lid ajar and simmer for 7 to 10 minutes. Lentils should be soft but with some bite. Strain, remove and discard vegetables and set lentils aside. You can refrigerate cooked lentils at this point if not using right away
To BRAISE LAMB: Over medium-high heat, warm enough canola oil in a large, heavy-bottomed saucepan to lightly film bottom of pan. Once it smokes, add lamb and sear on all sides until deep golden brown. Remove lamb to a large dish. Reduce heat to medium and add onions, carrots, celery and garlic to fat remaining in pan. Sauté, scraping up brown bits from bottom of pan. Continue to sauté until vegetables are golden, 5 to 10 minutes.
Return lamb to pot along with herbs, peppercorns and bay leaf. Cover with water and bring to a boil. Reduce heat to simmer, cover with lid and cook 2 to 3 hours, depending on size of shoulder, or until meat is falling off bone. Then remove pan from heat. Allow to cool 20 minutes before removing lamb to wire rack over a baking sheet. Leave at room temperature for another 30 or 40 minutes before placing lamb on rack in refrigerator to thoroughly cool.
Strain lamb cooking stock into another saucepan. Cook over mediumhigh heat until reduced by ¼. When lamb is cooled, cut meat from bone into large pieces. Reserve roughly 6 oz (140 g) for each serving portion and refrigerate remaining lamb for another use.
While lamb is braising, prepare MOROCCAN SPICED LENTIL PURÉE: Heat oil in a large heavy-bottomed saucepan. Add diced onion, celery and carrot and sauté over medium-high heat, stirring until translucent. Reduce heat to medium and add garlic. Sauté a few seconds. Add 3 tbsp (45 ml) Moroccan Spice Mix and stir, scraping up brown bits from bottom of pan. Add 8 cups (2 L) water, 2 cups (500 ml) dry lentils and a pinch of salt. Bring to a gentle boil, reduce heat to simmer and cook with lid ajar for 20 minutes or until lentils are falling apart. Water level must consistently be just covering lentils, so add more water or cooking time to reach that point.
When lentils finish cooking, transfer to a blender and whirl with cream on high speed until blended. Whirl in butter, a few cubes at a time, until purée is completely smooth. Season with a little lemon juice and salt to taste. Purée can be used immediately or set aside until ready to use
Prepare baby turnips, bringing a large pot of salted water to a boil. Cut turnips into ½-in (1.25 cm) wedges and blanch in boiling water for 10 to 15 seconds. Then plunge into an ice water bath to stop cooking. Turnips should be crisp to bite when blanched.
To serve, put Moroccan Spiced Lentil Purée in a large, wide, heavy-bottomed saucepan. Warm mixture over low heat. In a separate pot, add ½-in (1.25 cm) reserved lamb stock and stir in cooked lentils and enough chunks of braised lamb to serve 4 people. Bring to a low simmer and cook, stirring often, making sure mixture doesn't stick. Add more lamb stock if mixture appears too dry.
Once lamb is heated through, stir in baby turnips, cook briefly to warm. Stir in ¼ cup (60 ml) diced cold butter, if desired. Season with lemon juice and salt to taste.
To serve, spoon a few tablespoons purée onto heated plates. Top with some chunks of lamb, lentils and baby turnips. Place a couple pieces Burrata cheese on side and garnish with gooseberries and a generous sprig of lemon balm.
Drink Pairings