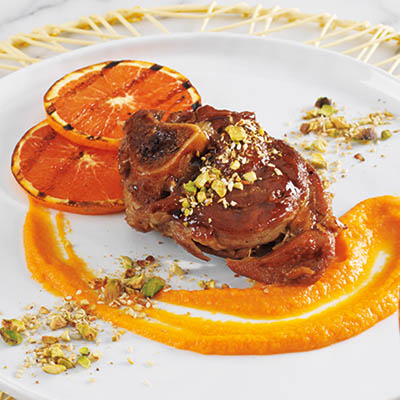 BRAISED LAMB WITH PISTACHIO DUKKAH AND CARROT PURÉE
Ingredients
Serves 8
salt and freshly ground black pepper, to taste
2 large carrots, peeled and chopped into ½-in (1.25 cm) pieces
2 celery sticks, chopped into ½-in (1.25 cm) pieces
2 yellow onions, chopped into ½-in (1.25 cm) pieces
1¼ cup (300 ml) white wine
1 orange, zested into long strips using a vegetable peeler and juiced
4 cups (1 L) lamb or chicken stock
grilled slices of orange, for garnish (optional)
3 tbsp (45 ml) coriander seeds
1 tbsp (15 ml) cumin seeds
½ cup (125 ml) shelled pistachio nuts
¼ cup (60 ml) sesame seeds
3 tbsp (45 ml) unsweetened shredded coconut
salt and freshly ground black pepper, to taste
1 lb (500 g) carrots, peeled and chopped into ½-in (1.25 cm) pieces
1 lb (500 g) yams, peeled and chopped into ½-in (1.25 cm) pieces
1 cup (250 ml) chicken stock
1 tbsp (15 ml) unsalted butter
Instructions
Preheat oven to 275 F (140 C).
Season lamb osso bucco liberally with salt and pepper and set aside. Heat oil over medium-high heat in large frying pan. Sear osso bucco until browned on all sides. Remove from pan and set aside on a plate. Return frying pan to heat and sauté carrots, celery, onions and garlic until they begin to caramelize, about 10 minutes. Add wine to deglaze pan, scraping any browned bits off bottom of pan using wooden spoon. Allow wine to reduce by half, about 4 minutes, before stirring in thyme, strip of orange zest, juice of orange and cloves. Transfer wine mixture to a heavy-bottomed roasting pan along with stock. Place roasting pan on stovetop and bring stock mixture to a boil over high heat. Add osso bucco to pan, cover tightly with aluminum foil and place in oven to braise until fork-tender, about 2 hours. Turn osso bucco every half hour to evenly cook.
While lamb is braising, prepare PISTACHIO DUKKAH: In a small frying pan, toast coriander and cumin seeds over medium heat until fragrant, about 2 minutes. Transfer spices to spice grinder or mortar and pestle and allow to cool completely before finely grinding. Meanwhile, toast pistachios in same frying pan as spices, stirring often, until lightly browned, about 5 minutes. Transfer to cutting board and finely chop before placing in a small bowl. Add sesame seeds and coconut to frying pan and toast until golden, about 2 minutes. Add coconut and sesame seeds to bowl with pistachios. Stir in ground spices along with salt and pepper to taste.
Prepare CARROT PURÉE: In a mediumsized, heavy-bottomed saucepan bring carrots, yams, garlic, stock and a pinch of salt to a simmer over medium heat. Cover and cook until carrots are very tender, about 12 to 14 minutes. Purée mixture in blender or food processor with butter until smooth.
Once osso bucco finishes braising, carefully remove from sauce and set aside, keeping warm. In a blender, purée sauce until smooth.
To serve, dollop Carrot Purée onto serving plates. Top with a piece of osso bucco and garnish with a drizzle of sauce, a sprinkle of Pistachio Dukkah and a squeeze of juice from the grilled orange slices, if desired. Serve immediately.
Drink Pairings