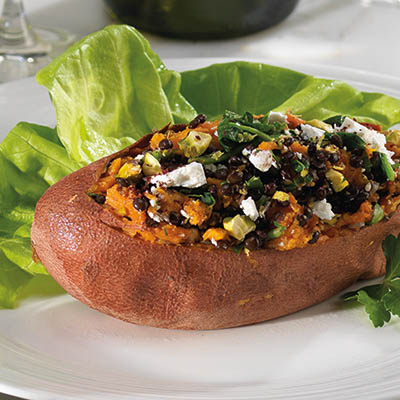 BRAISED LENTIL-STUFFED YAMS
Ingredients
Serves 4
4 medium-sized jewel yams
2 tbsp (30 ml) extra-virgin olive oil
1 medium-sized yellow onion, diced
2 cups (500 ml) black beluga lentils
2 cups (500 ml) vegetable broth
1½ cups (375 ml) crisp white wine
1 tsp (5 ml) ground cumin
3 cups (750 ml) baby spinach, baby kale or baby chard
salt and pepper, to taste
⅓ cup (75 ml) crumbled sheep's milk feta
⅓ cup (75 ml) chopped, salted, roasted pistachios
2 tsp (10 ml) toasted sesame seeds
ground sumac, chopped flat-leaf parsley and finely grated lemon zest, for garnish
Instructions
Preheat oven to 400 F (200 C).
Prick each yam a few times with a fork and place on a baking sheet. Bake until yam skins start to wrinkle and a knife easily pierces through flesh, about 35 to 50 minutes. Cooking time will vary depending on size of yams.
Meanwhile, prepare lentils. In a large saucepan, warm olive oil over medium heat. Add onion and cook until translucent and softened, about 5 minutes. Add garlic and thyme and continue to cook another minute.
Stir in lentils, then add broth, white wine and cumin. Stirring occasionally, bring lentil mixture to a simmer. Reduce heat to low, cover and cook, stirring occasionally, until lentils are tender, about 35 to 40 minutes.
Strain and discard any extra cooking liquid. Return lentils to cooking pot, remove from heat, discard thyme stem and stir baby spinach (or kale, or chard) into warm lentil mixture, allowing spinach to wilt slightly. Season to taste with salt and pepper.
When ready to serve, slice each yam along top lengthwise. Open and stuff with warm lentil mixture before topping with a sprinkle of feta, pistachios and sesame seeds. For an extra flourish and seasoning, garnish with a pinch of sumac, chopped parsley and lemon zest, if desired. Serve warm as a light meal or a hearty side dish.
Drink Pairings